Motorsport News of 25th October 2008
Dodd's day of destiny
Pre-event woes prove a good omen for the gravel champion.
By - Sean Moriarty
Bulldog Rally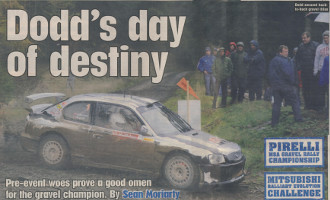 Saturday's Bulldog Rally was perhaps the most significant event in Marcus Dodd's 20-year rallying career.
The Dorset driver and his Brighton-based co-driver Andrew Bargery recorded a clear win on the Oswestry based event, leading from the opening test. More importantly, the win gave the Hyundai Accent WRC driver the Pirelli MSA Gravel Rally Championship for the second year in succession. Dodd won the old National title twice, giving him a record four ANCRO championship wins.
In the absence of chief title rival Jon Ingram, because of his wife's injuries sustained in a horse-riding accident last month, Dodd knew he had to win the rally to lift the title.
But nothing is simple in rallying and when the newly-built engine of the Poole businessman's Hyundai expired on Thursday night it looked as if his title bid was over.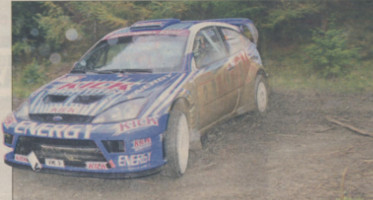 Dodd called upon his friend Peter Egerton, who is also a customer of his HPM Motorsport concern, and borrowed his almost identical Accent on the eve of the event.
"It could be a good omen," said Dodd before the start, "Any rally where I have a lot of problems leading up to it tends to go well." The 37-year-old's prediction was spot on. He took control of the rally on the opening 8.91-mile Dyfnant test and held his nerve through the remaining five stages to record victory.
"I was very nervous going into the last stage because I held a 40- second lead and this was the same margin I had going into the last one on the Trackrod last month when my engine blew up," added Dodd, "I was hoping history wouldn't repeat itself." Fittingly, it was the Ford Focus WRC05 of former champion Steve Perez and Paul Spooner who were best placed should Dodd falter on the last stage. The Chesterfield pairing inherited the Trackrod win after Dodd's engine woes but they had to settle for second this time round. Perez rued a poor tyre choice in the earlier tests and once he opted for a more open compound in the afternoon he worked his way up from fourth after the first stage to second at the finish.
"The stages were a lot muddier than I thought they would be," said Perez. "The open tyres cleared the mud but lost too much time earlier in the day"
Roger Duckworth and Mark Broomfield were in the early running for a podium position. The Subaru Impreza WRC crew set fastest time on the second stage, the 13.07-mile Wolfone, named after the radio call sign of Wolverhampton and South Staffordshire Car Club member Ray Lloyd who died last year.
Their run was short lived as they suffered a puncture on stage three, Big Ray [another reference to Lloyd], the longest stage in the rally at 15.69 miles. "We decided to stop and change it as there was still ten miles to go," explained Broomfield after they dropped to 15th. They later recovered to 11th.
The similar machine of Julian Reynolds and Patrick Walsh slotted into third place but they were plagued by an engine- misfire that was eventually traced to faulty spark plugs. Still, the South Wales driver did well to keep his ageing 1999 specification Impreza in touch with the more modern equipment in front of him, securing third in the final gravel championship standings in the process.
Mark Higgins was out for another run in the Bill Gwynne Motorsport MG S2000 Sport. The Manxman had Killarney's Paul Nagle on the notes for the first time but they slid wide on an approach to a hairpin on stage one and lost ten minutes waiting for spectators to extract them. They set an impressive string of top three times later in day on their way to 21st overall.
The event was also the final round of the Mitsubishi Ralliart Evolution challenge and the Dumfries crew of David Bogie and Kevin Rae knew that a top five result in the category would secure them the title and a works drive in a Lancer E10 on Wales Rally GB in December.
However, four other crews had a chance of taking the coveted title if Bogie faltered and this prompted Keith Cronin and Greg Shinnors into an early charge. The Cork youngster impressed with his third overall on the Trackrod and looked set to repeat the performance in Mid-Wales. He was just six seconds off Dodd on the opening test and slotted into a solid second overall after two stages. But it all went wrong on stage three when he got caught out by a right-hander that tightened suddenly and his Lancer ran wide, caught the undergrowth and flipped slowly onto its roof and out of the rally.
A three way battle developed between Nik Elsmore/Craig Drew, Daniel Barry/Martin Brady and Neil McCance/ Graham Hopewell, while Bogie elected to drive conservatively to ensure the prize drive. He finished tenth overall and fifth in the Challenge, 49 seconds behind Jonny Greer and Dai Roberts, Elsmore held on to record fourth overall and his first category win since the 2004 Swansea Bay Rally It also meant he ended the year tied with Bogie on points, but missed out on the title on a tie-break due to Bogie's three victories this season.
Barry was out in a hired Lancer E9 because his own car is still being rebuilt following his Trackrod Rally smash. The 23- year old was struggling to put the demons of Yorkshire to rest and it was not until the final tests that he set times that he was happy with. Nevertheless his fifth overall and second of the Evo Challenge runners ensured him the junior title while co-driver Brady topped the overall Evo Challenge co-drivers' points.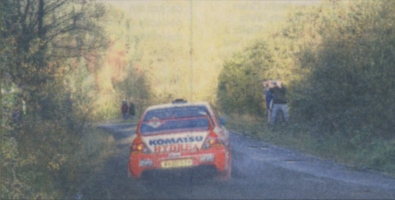 McCance kept Barry within his sight but admitted he could not find that extra little bit of pace to pass his rival. Less than three seconds separated them at the finish of the event.
Stephen Petch and Michael Wilkinson had to contend with a faulty hydraulic pump that controls the rear differential in the Accent WRC on their way to seventh. The Mitsubishi Lancer team of Charlie Payne and Jamie Edwards were less than 11 seconds behind after they changed the car's rear wheel bearings at the first service halt at Dolgellau.
Elliott is elated to win all-Escort battle for Clubmans glory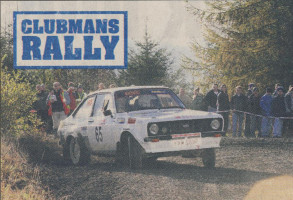 There was an epic battle between the Ford Escort Mk2s of Nick Elliott/Dave Price and Ieuan Rowlands/ Emyr Hail for the Clubman's Rally honours.

The pair traded seconds and swapped position over the five- stage event but Elliot held on to take the win by just 1.3 seconds.

"It was very close and that boy Ieuan can drive," said Elliott. "That last stage was scary in the mist and the wipers couldn't clear the screen fast enough."

Rowlands was driving an Escort Mk2 for the first time in five years and was using the event as a shakedown for the Cambrian Rally in two weeks time. The Ffestiniog driver has another Escort under construction but as it was not ready borrowed his engineer Meirion Robert's left- hand drive example. He said: "I lost the event on stage four, Llangywer, because I was pushing too hard and I was untidy in there. I was three seconds slower than Nick on that one."

Paul Davy and Roger Allan recorded their best result in more than ten years with third in their Impreza. "I couldn't live with the Escorts but it was worth being here to watch them," said Davy. British Rally Elite member Jason Pritchard and co-driver George Gwynn marked their debut run in a four-wheel drive car with fourth overall in their ex-Richard Cathcart Subaru Impreza Nll.

Local crew Paul Walker and Vern Brown ran as high as third until a puncture on stage three cost them four minutes and dropped them to 15th overall. It was a costly incident for the Subaru Impreza crew: third position would have been enough to secure the Millers Oils Welsh Clubman Forest Rally Championship after title rivals Keith Parry and Wyn Davies crashed their Impreza on the opening test.
Teenager Matthews takes a clear win
Mini Rally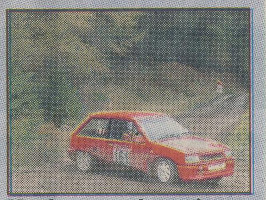 Anglesey teenager Sion Matthews and co-driver Gruffydd Matthews dominated the two-stage event. The Vauxhall Nova paring were never threatened by the other three crews and finished 27.1 seconds clear of Paul Edwards and Brynmor Pierce It was Edwards' first-ever event on gravel and using pace notes for the first time in his Peugeot 205. Alywn and Alwena Frazer took third. It was the first time the co-driver had been in the car since the pair rolled their Nissan Micra on the DPS Stages Rally at Trawsfynydd in July Martin Pendlebury wheeled out his Ford Escort Mkl for its annual trash around his around his local forests and took fourth.
Davidson ends runner-up run
Yokohama Challenge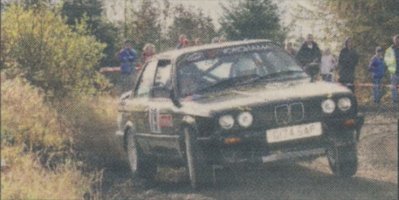 Andy Davidson and Laura Taylor took their first Yokohama RWD Challenge win in their BMW325i on their way to 12th in the Clubmans Rally "I have been second on every event I finished this year until this one, " said Davidson
The result ensures the title fight will go down to the wire on the final round, the Kail Kwick Stages on November 14/15. Erstwhile points leaders Toni Carannante and Ella Flynn finished 14 seconds adrift.
Richard Felgate and Mark Mason consolidated third in the points with a third place finish. The Lancashire pairing of Russ Thompson and Andy Murphy came out on top of the Peugeot 205 battle despite suffering from the side effects of fuel fumes inhalation due to a leaking pump.
Martin Ausker in and Jon Ross were just 0.6seconds behind them. They were thankful to rival Thompson who loaned them suspension parts after theirs failed in the early stages. Dan Corner looked set for the third of the 205s but an error by co-driver James Greenwood meant they incurred a one-minute penalty for booking in early for to the last stage. Jamie Anderson and Jon Scott inherited the position.
In Brief
Scottish youngster Euan Thorburn finished fourth overall on the National Rally but was excluded after failing post-event scrutineering. He damaged his Subaru Impreza's exhaust on stage three and replaced it at service. However the new system did not have a catalytic converter fitted and did not conform to Group N rules. The exclusion denied Thorburn what would have been his best result in a national round. This was the first event he decided to run the car in Group N: had he elected to remain in Class B13 a catalytic converter would not have been a requirement.
John Lloyd and Adrian Cavenagh withdrew their Ford Focus WRC from 13th position after they left the road on stage three. They fell nose first into a deep bank and, while they were able to extract the car, they pulled out at the next service because Lloyd had suffered a minor rib injury in the incident.
Nathan Crew and John Connor's ambitions of winning Class B9 in every event they contested in 2008 ended off the edge of a Dyfi cliff. The MG ZR crew had already secured the class honours and top front-wheel-drive crew in the gravel championship but were going for a clean sweep when the incident occurred on stage three. Both crew members were uninjured.
American co-driver Alex Kihurani experienced his second British event alongside Thomas Naughton in a Mitsubishi Lancer E9. The Philadelphia student and X Games Rally bronze medalist is based at Manchester University until Christmas. Their run was short-lived as they crashed out on stage three after running as high as 12th after the event's opening test.
Anglesey co-driver Kath Rumney all but secured the overall co-drivers title in the Welsh Clubmans Forest Rally Champioship ahead of the Cambrian Rally in two weeks. She guided Dave Robinson's Ford Escort WRC to seventh in the Clubmans Rally.
Ford Escort RS1800 crew Stuart Clark and Cliff Simmons finished 51.4 seconds clear of the similar car of David Lloyd-Roberts and Dei Jones to win the Historic section of the Clubmans rally. Several crews used the event to gain experience: it will form the opening round of next year's British Historic Championship.
James Slaughter was thankful to have the expertise of Historic Championship co-driving ace Elgin Davies on board for the first time. He recorded a Class H5 win in his Ford Escort Mk1.
Regular MN contributor Ian Harden guided Andy Stretton to a Class 02 win on the Clubmans rally in their Peugeot 205.
Herefordshire crew Steve Holder and Steve McPhee used the event to gain their international licence ahead of a planned entry on Wales Rally GB. They Subaru ImprezaNH pair struggled with the cars handling until a set of second-hand tyres improved it. They finished 19th.
Class rounded-up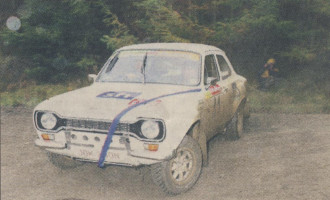 Media guru Tony Jardine and his co-driver, Evening Standard journalist David Smith, dominated Class N3 in their Ford Fiesta ST150. They finished nearly a minute clear of the similar car of father-and-son team Kit and Tim Leigh.
Citroen C2-R2 pairing Andrew Hockridge and Rich Mills, using the event to get some Welsh forest mileage ahead of an appearance on Wales Rally GB in December, were clear winners of Class A6. Andrew Coley and Dan Pearce were second in the category but did enough to clinch the gravel championship class title after rivals Rod Bennett and Harry Richardson's Fiat Punto broke a front driveshaft on stage three.
Steve Perez and Charlie Payne were the top runners in Class A8 (see main report), while Irish crew Martin Cairns and Andrew Purcell marked their first visit to the Bulldog Rally with third in class and 18th overall in their ex-Nigel Hicklin Subaru Impreza.
Isle of Man visitors Connor Corkhill and Howard Allison were the highest placed crew in the historic section and were the only starters in Class H3 on their way to 27th overall. Class H2 winners Andrew Siddall and Colin Thompson finished one place behind but were disgusted that a cam follower in the engine of the their Ford Escort Mk1 broke for the third rally in succession.