Motorsport News of 27th October 2004
Perrott's perfect victory
ANCRO: Bulldog Rally
Pre-event dramas failed to slow Escort ace
Report by - James Attwood
Just getting to the start of the Bulldog Rally was a major triumph for Mark Perrott and Paul Morris, with a number of last-minute mechanical dramas disrupting the build up.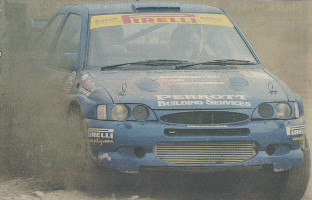 It was a different story once their Ford Escort WRC had crossed the start ramp, with Perrott defying difficult conditions to saunter to his second straight win on the event.
The first drama for Perrott occurred when he took his Escort to have an MOT on the Thursday before the rally "The cambelt broke and damaged all the valves on the engine," he explained. "We had to rebuild the entire unit. Then on Friday the power steering broke so we had to fix that. We were really very lucky just to start at all."
But unfortunately for his rivals Perrott did make the start, and he immediately signalled a note of intent, building a lead of 20.6 seconds on the first two stages. He did this despite having to deal with treacherous conditions caused by the rain clouds that camped above the Welsh stages for most of the previous week.
"The conditions were better than I thought," he said at first service. "The rain has actually washed the road clean in places, although there's a lot of standing water and mud patches about. "
Newly-crowned Kumho National champion Steve Perez was Perrott's closest challenger over the opening loop, but the Ford Focus WRC driver admitted that he just couldn't come to terms with the pace of the leader.
Roger Duckworth, having his first run in a new Subaru Impreza S9, set the third fastest time on the opening stage, although he insisted that he was treating the rally as an extended test session. However, he was deposed to fourth overall by Marcus Dodd on stage two, despite Dodd being unhappy with the tyres he'd selected for the opening stages.
The first two stages claimed two notable retirements. Andrew Burton was forced out of the event on stage two after his Peugoet- Cosworth developed a mechanical problem, while Craig Middleton dropped seven minutes on the stage after his Hyundai Accent developed electrical problems and didn't make it out of service.
Perrott cemented his domination of the event with fastest times on SS3,4 and 5 to extend his lead over Perez to 29.2 seconds, although the latter did respond with the fastest time on SS6 to cut 6.4 seconds out of his advantage.
"We just can't live with Mark," confessed Perez. "No matter what we do he just keeps taking time off us. I need to step up a gear."
Dodd set the second fastest time on stage four, but his event ended on the very next stage as his car suffered a mechanical failure. This moved Duckworth into a secure third position, over 20 seconds clear of fourth placed man and lead Group N runner Rory Galligan.
Perez's hopes of victory were effectively ended on SS7, the 12.84- mile run through Gartheinoid. Perez suffered a puncture on the stage, dropping 36.9 seconds to Perrott, who, predictably, set yet another fastest time.
Perez responded with the fastest time on SS8, but Perrott set another fastest time on the final stage to finish the event over a minute clear of the field.
"It was a great day, " he said. "After the problems in the build up to the event the car had no problems all day Once Steve had his problem it was easy It was a perfect rally really - a nice way to finish the year."
Duckworth set the second fastest time on the final stage to score an impressive third overall, ahead of fellow Group A debutant Geoff Jones. The Welshman started the event steadily and was sitting in eighth overall after the first five stages. However, he then seemed to gel with his Subaru Impreza and began to fly, setting the fourth fastest time on SS6 and going second quickest on SS7.
Bob Ceen had looked likely to take fourth, but he dropped back on the final stage, eventually finishing 30th. Galligan finished fifth overall to secure Group N honours and the Mitsubishi Evolution Challenge title (see separate report). His main Evo Challenge rival, Paul Wedgbury, finished sixth ahead of Steve Petch.
Mitsubishi Evolution Challenge
Wedgbury puncture leaves the way clear for Galligan
Report by - Jo Holland
One of the most gripping season-long battles came to an end on the Bulldog Rally as Rory Galligan and Jonty Bolsover beat Paul Wedgbury and Neil Dashfield home to take the 2004 Mitsubishi Evo Challenge title.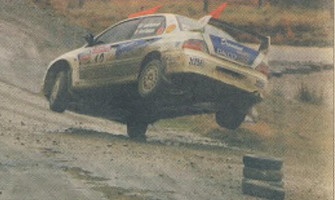 The decisive moment occurred early on, when Wedgbury picked up a puncture early in the first stage. "It's going to be hard to make up the time," he said in service. "It's cutting up so much, there's a fine line between staying on and going off. We've got a lot to play for."
By contrast, Galligan had a perfect run to build a clear lead. "We've settled into the rhythm of the rally," he said. "The car and the tyres are perfect. There's no problems, grip and an ideal balance. What more can you ask for?"
The puncture knocked Wedgbury down to fourth and, unbeknown to the team had also knocked out his rear tracking. Even with that, he was back to his usual form in stage two moving up to second behind Galligan and remaining there till the end.
Galligan's success secured him the title and the prize of a works Mitsubishi drive in the British Rally Championship Production class in 2005.
"It's been a long hard year," he said at the finish. "Today's been technically perfect, the car's a dream.
"Working with Mitsubishi again next year will be great. We'll give the big boys on the BRC a run for their money." Galligan was the Peugeot 106 Super Cup winner in 2001.
206 Super Cup
Jones leads from the front and scoops the championship
Report by - Jo Holland
Stuart Jones secured the Peugeot 206 Super Cup title with a resounding win on the Bulldog Rally He came out of the first stage leading and stayed firm to the end to claim the title.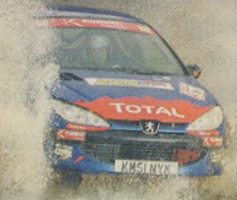 Ieuan Rowlands had topped the 206 championship table all season, but the Winter Cup champion was powerless to stop his rival and could only finish second. By the second service halt. Jones had built up a good lead on Rowlands but he was getting nervous.
"I don't know what to do now," said Jones. "I've got a good feeling, and apart from a front damper failing it's been a clean run".
Rowlands lost time when his front shock went on stage three, leaving him with substantial ground to make up on Jones. "We went so hard on the last stage but Stuart still took a second off us," he said. "There's 28 miles left, definitely worth a push."
But Jones kept up his pace over the final stages to secure victory Rowlands acknowledged: "Stuart's driven fantastically today I've led this championship since the Mutiny but couldn't win it today. I'd like to return in 2005, but I'm not sure what I'll be able to afford."
Jones said: "I feel a huge relief. We've had a good feeling all day. and never backed off. 1 have no idea what I'll do with the prize of a 206 Gp N rally car in 2005 yet."
Jones has one more ambition for 2004. "1 want to do well on the Tempest, I've not done well on a BRC round all year," he added.
Bulldog Historic Rally
No cobwebs as Tuthill stars
Porsche 911 driver sets fastest times throughout the post-historic rally - his 'one event of the year'
Report by - Mike Hally
Richard Tuthill and Nick Kennedy repeated their dominant performance on the same event last year, winning the post-historic rally in their three-litre Porsche by some two minutes.
Stuart Rolt and Richard Pomfret were equally convincing winners of the historic group, using Tuthill Sr's two-litre 911 instead of the driver's own three-litre machine. Stig Blomqvist and Ana Goni prevented a Porsche hat-trick by winning the classics in an RS1800, though they could not match Tuthill and Kennedy's times.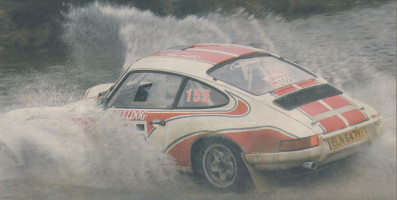 Post-Histories
Tuthill joked that "I'm just coming out for my one event of the year," but there were no sign of cobwebs as he hurled the three-litre car through the muddy arena of Sweet Lamb and proceeded to set fastest post-historic time on every one of the day's seven stages.
Their only really alarming moment came on Dyfi Main where they slid into a ditch and onto their side before tipping safely back onto two wheels and continuing with the loss of about 10 seconds.
Dominic Frattaroli and Wyn Thomas were in the runner-up slot after the first stage but slid their 240Zoff a freshly re-graded section in Dyfi and went a long way into the trees. Steven Smith/John Nichols had briefly overtaken them anyway in their RS2000, but David Stokes/Den Golding's RS1600 grabbed second spot on the third stage and stayed there, at least on stage times.
However a booking-in time at the final control that was 20 minutes later than it should have been meant they were declared over the time limit, and excluded from the results. An appeal to the event stewards was turned down and they decided to let the matter rest there, so Steven Smith/John Nichols took second overall post-historic and James and David Young third, also in an RS2000.
Historics
This was the last round of the 2004 British Historic Rally Championship and the overall winners Dessie Nutt and Geraldine McBride were hoping to take a clean sweep of victories in their faithful yellow 911. However Rolt, who has never really gone well in the forests in his three-litre post-historic Porsche, did a swap with Francis Tuthill's regular historic (two-litre) 911 and found it much more to his liking.
He was also re-united with co-driver Richard Pomfret, with whom he had won a BHRC round on the asphalt roads of Epynt, and together they set fastest time on six of the seven stages.
Chris and Hilary Green were third in their Lotus Cortina, following a largely untroubled run in which their only alarm was breaking off the driver's windscreen wiper going through the ford in Sweet Lamb. That could have been a major problem on a day of torrential rain, but the co-driver's one survived and was swiftly swapped over at the end of the stage.
Classics
There was great interest among the spectators as ex-World Rally Champion Blomqvist made a trip out in the David Sutton RS1800, as a further shakedown for the Roger Albert Clark.
He had no competition in the classics section, setting fastest time on every one of the day's stages, but he was pipped for overall honours by Tuthill.
Gareth Lloyd and Ryland James took second overall in their RS. The expected show-down with Ernie Graham/Robin Kellard for the HRCR Classic Stage Rally Challenge title failed to materialise when the latter's RS1600 put a rod through the block. Martin Freestone/Chris Heyes' RS1800 was third overall.
Bulldog Clubmans Rally
Water fails to trim Beards' lead
Report by - Neil Burgess
Peter Beards and Guy Weaver won a wet and wild Bulldog Clubman Rally in their Subaru Impreza 555, closely followed by Mk2 Escort pilots George Collister/Rob Fagg.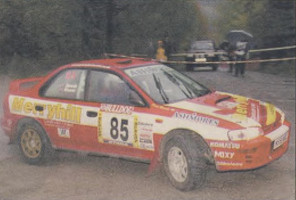 Beards/Weaver suffered from the conditions when their intercom took in water and their gearstick gaiter was blown off by the puddles. Collister kept up the pressure but finished 10.9 seconds behind, although they were the first Kumho championship competitors past the flag, putting them second overall in the championship.
Tim Pearcey/Mick Johnson were the third crew to take the flag, giving them a single point advantage to the Kumho Clubman championship title. Pearcey summed up the day saying: "I never want to drive that fast again."
The EuroRallye Cup, which runs with the Kumho championship, was also decided on this event. David Beesley/Derrick Ramsdall won overall Eurorallye 1600 and Kumho Clubman 1600.
"This rally has been really frantic but rewarding," said Beesley. "They are the wettest conditions I have seen in 25 years competing. It's like floating through the forest in a boat."
John Brooks/Phil Harvey took their Corsa to second overall in the Eurorallye Cup, first Eurorallye 1400 and First Kumho Clubman 1400.
Allan McDowell and Gavin Heseltine had their share of adventures on their way to fourth after bending a steering arm on the first stage of the day in the treacherous conditions. "We've been off more times today than in the rest of the year," he said.
Charlie Pye and Dave Tinsley were luckier - they knocked off their exhaust manifold early in the event, but managed not to scratch their new paint work.
Will Clarke/Simon Bailey were busily getting used to their Renault Clio Williams after six years away from competing.
Although going over the time limit on the final road section. Brian McGuinness and Mark Garner survived the event well after their alternator seized on the first stage, leaving them to swap batteries at every opportunity, only succumbing on the final road section.