Report from MOTORING NEWS of 20th October 1982
PACE NATIONAL RALLY
History MADE!
IT WAS a history-making moment when Markku Alen drove his Lancia Rally on to the finish ramp of the Pace Rally at the weekend, after a dominant drive to victory. It was the car's first UK appearance and its first time on 'blind' forestry; at the end of the day it was the first win for a GpB car on these shores, and the car's first ever win. In all, an impressive pre-RAC exercise. Also out on similar activities, Stig Blomqvist and Russell Brookes tussled for second place, the verdict going to the latter. For the rest of the National circus it was the status quo, with Malcolm Patrick finishing fourth and taking his sixth maximum points score of the season a unique achievement perhaps? Mike Stuart took fifth place, and with it the Pace / Autosport Championship runner's-up position, comfortably beating nearest rivals Phil Collins and George Hill, both of whom had troubled runs. There were good performances from Scottish Champion Ken Wood and Esso BTRDA Champion Trevor Smith, who both finished in the top 10, separated by just one second at the end. Andrew Wood, who has really got his act together now. took his second successive Gpl win.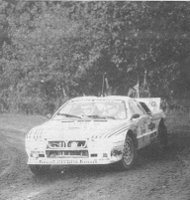 There is always that unique appeal of this, the final round of the National series. Proximity to the RAC always attracts a handful of top class crews on development / familiarisation exercises. This has the double bonus of adding to the publicity of the event and giving the regulars something to gauge their own performance by. In addition, it's a good opportunity for competitors from other branches of rallying to come and `test the water', perhaps with a view to an assault in the following year; and finally there is the end of term atmosphere which pervades the rally, makes for a friendly, but keen competition and provides a convivial atmosphere which continues long after the event has finished.
Like the previous round, this event had a star driver in a star car Markku Alen with Ilkka Kivimaki in the fabulous Martini Lancia Rally. That this was to be part of a serious RAC assault was confirmed by the presence of development engineer Giorgio Pianta and team co-ordinator Nino Russo, whilst the service barge (complete with spare body sections!) proved quite a spectator attraction too. The car came to Wales with a much milder state of engine tune than normal, to provide the flexibility required for the British conditions, with the perspex rear window sporting a central stay to prevent recurrences of previous failures due to the engine swallowing chunks of broken plastic!
At number two were Stig Blomqvist and Bjorn Cederberg in their factory Talbot Sunbeam Lotus. The car was running on Lucas fuel injection by way of experiment, but otherwise was as standard, with Des O'Dell, Paul White and Bernard Unett on hand to look after the effort. Russell Brookes and Mike Broad started at three in the Andrews Heat for Hire Chevette, followed by new Pace / Autosport Champion Malcolm Patrick in the Evans-Halshaw Ascona 400. This was probably Malcolm's last rally in the successful car, which is currently up for sale.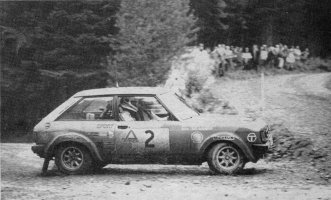 After threatening to appear with the Gartrac car for several rounds, Malcolm Wilson returned to reality and two wheel drive with the red G3, accompanied by Ronan Morgan. Once again Malcolm had about one hour's familiarisation with the car before the rally, but was looking forward to another run out in the forests. Andy Dawson and Kevin Gormley returned with the Nissan Turbo, another crew on pre-RAC testing, and they were followed by George Hill's Martin Group Chevette. George's Championship position has improved in recent rounds, to a point where he had an interest in the runner's up position, but that could depend on the men running behind him, Mike Stuart and Phil Collins in their usual Escorts. While Stuart came with a six point advantage over Collins (and 12 over Hill), Phil's speed in Wales is well known and a good tussle was to be expected.
In addition there was some lighthearted interest in the overall co-drivers Championship, with both Jon Savage and Mike Rowlands able to overhaul Phil Short if the Opel didn't finish in the first two points scoring positions. Despite the settling of most of the Championship, the majority of the regulars were present Donald Heggie, Ian Cathcart, Bill Dobie, Terry Pankhurst, Ian Tilke, Francis Tuthill and Jeff Churchill making an entry virtually as strong as on the opening round. Esso Scottish Champion Ken Wood brought his TR7 V8 down south, whilst two-year Esso BTRDA Champion Trevor Smith came to have a look at this level of rallying. With the Gpl category resolved, both Louise Aitken and Steve King didn't enter, although Louise was driving an interesting '00' car. This was the prototype for Ford's new Escort Turbo Championship, which was announced just prior to the rally, and was attracting a lot of interest amongst the clubmen for next year (see Rally Round Up). Lower down the order, the 1600cc class had yet to be resolved with Anthony Eaton and Steve Fairlie ready to do battle for the final honours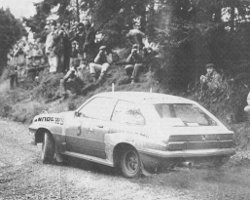 Scrutineering at Meirion Motors was the usual slick affair, with cars going straight into Parc Ferme on Aberystwyth Promenade. The welcome afforded the rally by the town was as usual warm, friendly and accommodating, with less of the close attention from Police and Traffic Wardens which has marred some previous rounds. However, the fine clear weather of Friday gave way to a cloudy, wet and rather gloomy Saturday. No doubt the stages would be wet and slippery.
This year's Pace saw a slight change in format, brought about by the much publicised footpath problem affecting the Dyfed-Powys area. Originally the organisers felt that they couldn't put on a rally worthy of the Championship, but a co-operative attitude from the Forestry Commission meant that some roads not previously available for rallies were released so that this event could go ahead. There were 10 stages in all. Thirteen miles in Hafren,then service at Machylleth, nine miles in Pantperthog plus three stages totalling 16 miles in Dovey and back to Machynlleth for service. The Pantperthog / Dovey group was repeated in the afternoon, followed by service again in Machynlleth, and then back to Hafren (in reverse) before - returning to Aberystwyth for the finish. If anything, it proved to be a better format than previous years, the regular access to service allowing greater scope for those on development exercises.
After a brisk run out, the action began in Hafren, slightly over half its normal length. Alen opened his account with his first fastest, a taste of what was to come. Only Brookes could stay in touch and in a stage where he normally dominates, was still some 11 seconds adrift of the nimble Lancia. Patrick was the only other driver to get under 15 minutes, just eight seconds down on Brookes; released from the constraints of "championship driving" he could drive as he pleased and was nearly half a' minute quicker than the nearest Pace / Autosport contender, Mike Stuart, who nevertheless was fifth fastest, sandwiching Blomqvist between himself and Patrick. For Collins however there were problems as he suddenly found himself with a 'box full of neutrals mid-stage and lost half a minute finding a cog. Malcolm Wilson had a slow start, finding the G3's traction not very good. George Hill reported a lack of front brakes, a legacy of Cumbria perhaps, while Bill Dobie had a clutch problem. Terry Pankhurst's engine went flat and he pulled up at the end of the stage with a dropped valve another disappointment for this highly promising crew. Punctures began to occur with regularity, George Marshall and Kevin Curran being the principal sufferers.
As the crews waited to clock in to Machynlleth it was time to compare notes: what did Markku think of the Lancia on blind forestry? "Car is good, yes, easy to drive, but in 1000 Lakes we had 310 horsepower, in San Remo 290, here is only 240. Not so good". At least he was being more tactful than Rohrl on such matters! Stig too was not happy with his engine, the injection set-up being not to the San Remo victor's liking. However with only 15 minutes service this time, a change to carburettors would have to wait until the longer lunch halt. Next on the agenda was the Pantperthog / Dovey complex, four stages and 25 miles without service, and some of it on totally unfamiliar ground.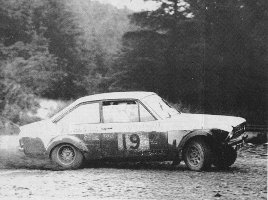 Alen flew over the fast, hilly, and twisty Pantherthog, with Brookes again second and Blomqvist in third spot. Patrick overshot a right hand turn and had to back out, losing 20 seconds and third place to Blomqvist. Malcolm Wilson went well to record fourth fastest, equal with a rapid Trevor Smith. Dennis Moody's Escort went off here, though eventually regained the road. A regular problem with Pantperthog is the abrasive surface, which soon destroys soft rally rubber. Some crews opted to change after the stage, having taken two spares, but others didn't and in the slippery mud of Dovey quite a few paid the penalty. The first stage, Cwm Celli, was something totally new. Initially fast and gently curving, it became tight and twisty towards the end, with several tightening curves. All the front runners got through, but several later numbers came unstuck as the surface cut up. Once again it was Alen who led, but Mike Stuart showed his pace, just one second down and equal with Blomqvist.
Gartheiniog was the meat in the Dovey sandwich, nine miles of old and new tracks. It was the new that caused the problems, with a particularly tricky muddy and rutted downhill section after a very tight hairpin. Russell Brookes ran over a large boulder here, mangling his right hand front suspension, which slowed him on this and the next stage. Stig Blomqvist nudged the bank on the right and was lucky only to dislodge the wheel arch. Trevor Smith clipped a log, Martin Freestone hit the bank, while Steve Fairlie's class championship hopes took a dive when he executed a double roll, losing all the glass. Undaunted even in driving rain the crew carried on, finishing third in the class at the end; this meant the 1600cc title went to Anthony Eaton, who despite a puncture had a less dramatic run to second in class behind Stuart Robertson. A possible legacy of Fairlie's accident befell Tristan Dodd who encountered a co-driver's briefcase lying in the track and almost went off avoiding it. So considerate, these Gpl guys!
The tales of woe in Gartheiniog were plenty, but there was no stopping Alen, 21 seconds quicker than Blomqvist with Malcolm Wilson, improving all the time, third. Last stage of the group was Nant-Hir, this fast and open stage deriving its name from the writing on the map which so conveniently covers up one of the most deceptive tightening 90° rights in the business. It lies at the end of a fifth gear straight and seems to go on for ever. The Dovey "regulars" lurk unseen by the exit to await the action. All the top crews got round, but many heart-stopping moments were reported by later numbers. It was Alen again, Patrick second, recovering his speed after a poor run in this group, with Wilson and Blomqvist third equal. At second service Alen pulled into Machynlleth lm 20s up on Brookes, who was no doubt relieved to have survived with his suspension problems. Blomqvist closed the gap to 22s,and was holding off Patrick by a similar amount. Mike Stuart had gone well in Dovey and was just 11 seconds down on Patrick, but Malcolm Wilson was relentlessly closing on him and looked set to move up the order. What did the Cumbrian think of the Gartrac car? "Definitely not as good as a good Mark 2", a conclusion which Donald Heggie's performances (as opposed to his previous Mark 2 results) would tend to bear out this season. Donald had battery problems but was still setting respectable times overall.
In the afternoon the rain showers began, leaving a slimy layer on top of the roads cut up from the previous lap. Pantperthog was slightly slower second time around, but the swift Lancia was still able to give everyone a lesson, 16 seconds up on Brookes who had repaired his damaged suspension. Blomqvist was happier with his car now and was just seven seconds slower than Brookes, with Patrick a further 12 back. Malcolm Wilson had got past Stuart and now set his sights on Patrick. Despite the conditions Cwm Celli proved quicker than before, even with the presence of an Escort left at the roadside after going off on a tightening right hander first time through. In fact clearance of these- stages caused the only delay of the day; otherwise the event ran as smoothly as everyone has come to expect. Once again Alen was fastest, from Blomqvist (getting quicker all the time) and Brookes, Mike Stuart, Ian Cathcart and Francis Tuthill all tied for fourth.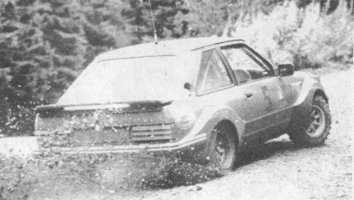 After a short delay, during which the rain began to fall more heavily, Gartheiniog 2 saw the only real drama of the day. Malcolm Wilson's G3 broke a compression strut on an uphill lefthander. The crew continued slowly for a while with the wheel flapping wildly, but when they came to the rough, muddy section realised that they could not get through without bogging down and possibly blocking the whole rally, so they parked up and waited to the end. They were able to witness more action at this point, as the deteriorating surface caught several people out. Main sufferer was David Mann who went off into the bank. After three minutes help from Wilson and Morgan he got going, but the Gpl lead was gone.
For the only time in the rally. Markku Alen wasn't fastest. Stig was really flying and despite the worsening conditions was only three seconds slower than the first time through: most people were much slower. Markku said "This crazy piece of road. I go slow now". At this rate of progress, Stig could catch Russell, but most of the top places looked settled. Patrick was pulling well away from Stuart, who was comfortably clear of Cathcart, Tuthill and Collins.
Nant-Hir saw Alen back to the fore however, while Brookes headed Blomqvist by one second. Final service at Machynlleth readied the crews for the final stage, 13 miles in Hafren. Alen was safe, almost two minutes up on Brookes, who on past form in Hafren, was expected to hold off Blomqvist. And so it proved, all the top crews emerging from a somewhat roughened Hafren unscathed, Alen again fastest. In fact the only change in the top 10 came when Ken Wood's TR7 V8 just got past a slowing Trevor Smith, who was relegated to 10th. George Hill finished a miserable day with a puncture in Hafren. So after a quick Psimat car wash (almost unnecessary, it was raining so hard by now!) it was back to Aberystwyth for the finish on the Promenade.
Alen had dominated proceedings all day to record a victory all the more surprising when the car's "tarmac racer" image is recalled. But this Pace Rally was principally about traction, and the Lancia has got plenty of that. If you're looking for a dark horse to challenge the Quattros on the RAC, this could well be the one. Russell Brookes. best of the conventional Gp 4 cars, can be well pleased with his performance and with the early part of the RAC based in Wales, here is another possible good RAC run in the making. Stig Blomqvist, once he changed back to carburettors went very well. and will surely be "at the races" come November. Malcolm Patrick had the satisfaction of yet another maximum Championship score, finishing a good fourth, comfortably ahead of his Pace / Autosport rivals. In so doing he enabled Phil Short to win the co-drivers Championship for the third time. Mike Stuart has looked the strongest contender to Patrick for most of the season and deservedly took runner up position and fifth overall, while Ian Cathcart was pleased to be back in the points at sixth.
The Pace National was, as usual, a good event run well by Wolverhampton SSCC. There were no ambiguities, no controversies, no hassles and no grumbles. Arguably, it is the best round of the Championship, well promoted and a fine way to round off an interesting and enjoyable series. For one man, Markku Alen, it was doubly enjoyable, for he not only won, but justified his early faith in this amazing car. Alas, he couldn't stay for the post-event festivities; the team was off, back into the forests, testing, testing, testing. . . . Come RAC time, watch out there's a Lancia Rally about!
J.P.S.