Autosport 22nd October -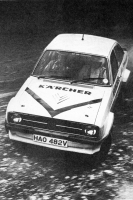 Henri's rally, Bill's title
Toivonen wins RAC preview — Dobie takes Castrol/ AUTOSPORT crown—Brookes and McRae star—Miers rolls out of G1 challenge — Patrick third — Report: PETER FOUBISTER — Photography: TONY NORTH
In the world of television entertainment, it is common practice to select a forthcoming attraction and 'prepare' the audience for its arrival. Surely everyone settled down last Sunday night for Dallas to discover whose was the body in JR's swimming pool?
Rallying has its own weapon for promoting future highlights, and this year it was called the Pace Petroleum National Rally. It crams 100 miles of forest action into one day a matter of weeks before the country's biggest motor sporting event, the RAC Rally.
Last year's RAC winner Henri Toivonen eventually took the honours, but our own hero, Jimmy McRae, played more than just a supporting role ... as did Russell Brookes.
And it was the final round of the Castrol/AUTOSPORT championship, a series which has been extremely closely fought and had four possible winners before the Saturday start in Aberystwyth. Eventually, Bill Dobie and Roger Jones drove their Ford Escort RS to the title, but it was a close thing and Dobie only finished one point ahead of George Hill's Chevette.
Malcolm Patrick, the fastest man in the championship, took third overall on theday, and third in the series with his Opel Ascona400, but Welsh hopes were dashed half way through the rally when Jeff Churchill retired his Escort with axle failure.
Positions were just as close in the Group 1 and Talbot Sunbeam ti Challenge, with Terry Pankhurst taking his Escort to a popular victory ahead of Ian Hughes's Avenger. Steve Arnold just pipped Hughes's team-mate Steve King in the Sunbeam series, a fantastic end to a competitive championship.
For the future, however, there is still more excitement to come. This preview, witnessed by many rally fans in the forests of Wales, augurs well for what could be the most exciting RAC Rally ever.
For some years now the annual thrash on the National rally has been the highlight of the Castrol/AUTOSPORT calendar. A good geographical format, with around 100 miles of superb forestry roads and tight servicing ensures a fine day's sport, while the actual date of the event also ensures a top class entry.
The 1981 offering maintained all those traditions. With backing this year from Pace Petroleum, the Wolverhampton and South Staffs CC also attracted support from Andrews Heat for Hire, who assisted in the production of all documentation for the rally, which kept the presentation well up to scratch.
At the end of the Castrol/AUTOSPORT championship year, the rally has always attracted a healthy number of national drivers to Aberystwyth. A matter of weeks before the Lombard RAC Rally, the real attractions are often the international stars hoping to glean some new knowledge before that major conflict. This season, tyres have played a very big role and it was no surprise, therefore, to see a couple of Michelin trucks trundling around the Welsh mountain roads. Both Jimmy McRae's Opel Ascona 400 and Henri Toivonen's Talbot Sunbeam Lotus were trying the TRX cover for possible use in November.
Pirelli were also in attendance for Malcolm Wilson's Ford Escort (the car he used on Cyprus recently) and for the ex-Eklund Toyota Celica, driven for the first time by Terry Kaby.
Mazda on the other hand were not tyre testing but car testing, with New Zealander Rod Millen at the helm of a brand new Group 2 RX-7. Built by Tom Walkinshaw Racing, the car spent a couple of days testing earlier in the week, and did everything expbcted of it. Dunlop M & S covers were used, while ex-Mazda man Willie Rutherford was another "car testing', with his first rent-a-drive Ford Escort from the JC Van Motorsport Hire stable.
"I have only driven the car for about 30 miles, but it feels really good, and I am very pleased to be here," commented Rutherford, whose early impressions of the car proved correct once the rally got under way.
'Co-driver testing' would be the only description for the MCD Services entry for Roger Clark and Chris Searle. The BBC presenter disappointed his film crew by showing few signs of nervousness but impressed the whole team with his professional attitude.
"People told me before that co-drivers were just sacks of potatoes, but there really is a lot of paperwork to do. While trying to keep it all up to date, you really do feel like a sack of potatoes being thrown about. I am thoroughly enjoying it, however; it is only my third event, and Roger is just superb."
Despite firm assurances of two cars from Colt, a last minute telex cancelled the cars for Anders Kullang and Andrew Cowan, while another Japanese challenge faded when Andy Dawson returned from San Remo with two rather unserviceable Datsuns.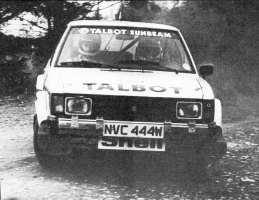 The National drivers were all in attendance with Malcolm Patrick leaving all the tyre testing to his DOT colleague. "We are sticking to what we know," said Patrick. "I have to try to get maximum points in the series, and then we will have to see what the others do." He was well aware of the long odds for a championship win, but he had not given up. Jeff Churchill held a slim lead in the series, but would have to drop points as he had scored on every round. George Hill and Bill Dobie could count everything they scored. With just a couple of points between the two of them, and 100 miles of stages ahead the national championship had a really close finish in store.
RALLY
Wales at 8.00am on an October morning can be a chilling experience. The road run out of Aberystwyth to the forest mass gave a warning of what drivers could expect in the early special stages, with some mist lying over the hills and frost on the higher ground. Malcolm Wilson's Escort was the only car that hesitated, however, leaving the start under manpower before a plug change would give the engine the incentive needed to burst it into life.
For Jim McRae, the conditions were particularly cool. Only hours earlier he had been relaxing with his family in Minorca, leaving them to fly back for the exercise. Henri Toivonen and Fred Gallagher were also alarmed by the British weather, having spent several weeks in San Remo for the world championship event.
It was Toivonen however — "it all seemed very strange without Fred reading me the notes" — who set the pace, with the car last used by the factory on the 1000 Lakes in August. Brookes was next, his Dunlop-shod car co-driven on this instance by Tony Goulding, as Mike Broad had business commitments. The pair reversed the order at the end of Hafren, however, as several drivers found themselves taking to the undergrowth — including Brookes, who had two separate incidents.
"I think it is really a case of whoever has been off the road the least number of times leads the rally," he commented when he arrived at the first visit to the windswept and inhospitable service area south of Machynlleth. He had actually taken 21 secs from the Finn over the 25-mile stage, with McRae a further 19secs down followed by Wilson and the top Castrol/AUTOSPORT contender Malcolm Patrick.
Following the excursions on the opening two tests, some decisions were being made about tyres. Both McRae and Toivonen Were unimpressed with the TRX on the forest roads. One suggestion was that the cold conditions were not allowing the tyre, to warm up properly, and, while ideally suited to the harder loose roads found on the Continent, it lacked bite on the Welsh tracks.
Wilson was using Pirelli's latest offering for the RAC, but also arrived unconvinced. "They have done 35 stage miles, and they are slicks," commented co-driver Terry Harry man, surveying some rather used-looking rubber. Kaby was trying some wide tyres, but also found them slightly unsuitable, and was down the top ten.
Positions after two stages 1, Brookes, 33m 46s; 2, Toivonen, 34m 02s; 3, McRae, 34m 32s; 4, Wilson, 34m 41 s; 5, Patrick, 35m 01s; 6, Evans, 35m 13s; 7, Clark, 35m 16s; 8, Rutherford, 35m 18s; 9, Kaby, 35m 24s; 10, Stones, 35m 42s.
But what were the fortunes of those battling for honour in the National championship?
Patrick's Opel was the only established name to figure anywhere in the top runners. Behind him Derek Evans had the single cam Vauxhall Chevette well up the order, the marque experiencing changed fortunes from the 1980 National event. Last year McRae's Chevette won outright, while the national series was fought between George Hill and Terry Kaby, both in Chevettes.
This year Evans was the only man near the top, on a rare outing in the championship. Hill was a long way down the order. "I stopped on the long Hafren stage, because I was sure that the car had a puncture. It hadn't, so we carried on . . ; but lost a bit of time," he commented as the mechanics switched the car to softer Goodyear rubber. In an effort to ensure he avoided punctures, Hill had opted for a harder compound which clogged up and offered little traction.
Now he would have to set about nutting a gap between himself and rival Bill Dobie, or the series would be lost. "George has always had a thing about getting punctures in Wales," commented Jeff Churchill, aware that the delay for the Chevette was to his advantage.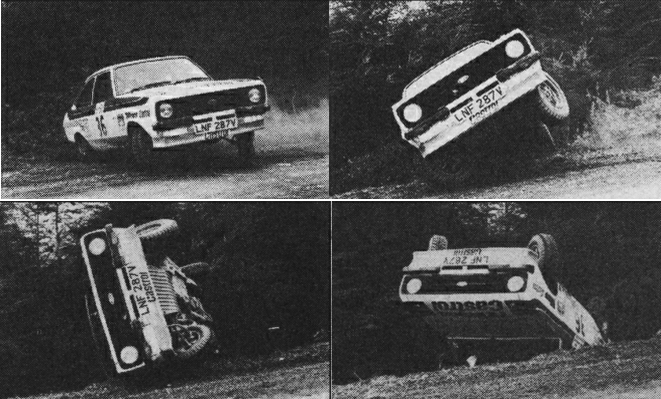 "I knew it was going to be one of those days when Jeff really tries hard," commented co-driver Roger Evans. On the opening stage I warned him about a couple of junctions as we approached, but he just turned to me and said, "I know — it's alright," and we were round and away. Great."
It was Churchill's performances which were boiling up the championship as, with Patrick ahead, Churchill looked set for second place points, with Dobie and Hill watching each other in 20th and 23rd positions. If there were enough drivers between Churchill and the others, then perhaps that coveted crown could find its way to Wales.
Spirited driving was evident from Clew Hughes, who was quicker than Roger Clark and Kaby through Hafren and intent on keeping things that way. Still further back, Kevin Stones was going well with his Shell-supported Sunbeam Lotus; Reg Mullenger was well up and Nigel Worswick was at the start of a good run; if these drivers could maintain their challenges the Championship points would be very close.
Also ahead of the two challengers for outright victory, however, was Group 1 star Terry Pankhurst in his Escort RS2000. It would take until the second half of the event before either Hill or Dobie would pass the youngster, although he was not worried about that. His chances in the G1 category had. improved when Ian Hughes collected a puncture on Hafren, dropping 3mins while the crew changed the tyre. It did not kill his spirit. "It was the same corner as last year, when I was challenging for the Talbot Sunbeam ti class, and I even stopped in the same layby. There is still a long way to go however, and it could happen to someone else."
In many respects the action was just starting, because after that first service halt, the cars headed through Machynlleth for three tests in the north through Taliesin, and Dovey. Although all the leading cars survived intact not all had clean runs, and Toivonen completed two of the stages without the aid of an LSD. Wilson's Rothmans Escort also had mechanical problems, and after only a couple of miles on SS3, the car only had second and fourth gears. For others, it was not a case of mechanical problems, but driver error, and Brookes tossed his lead away on the final corner of Taliesin, which Chris Sclater made famous some years ago. McRae was sitting at the finish line; "I saw the underside of the Talbot in my mirrors. It looked as if it was going over, but he got it back onto the stage. He must have lost about 20secs."
Reg Mullenger picked up a puncture earlier in this stage and had to stop and change the tyre ruining his chances of a good result and making Churchill that little less likely to take the series, as both Hill and Dobie were making ground.
Churchill's chances then started dropping off even more drastically. "We came off the stage," said co-driver Evans later, "and the axle started to make a noise. We both knew what that meant and neither of us spoke for the next seven miles." They started the fourth stage with fingers crossed, but the unit only lasted to the end and there was no possibility of it being changed with the service area well south.
It was a dreadful end to the Championship challenge, which has been maintained with an ultra reliable motor car. For all of the team there was disappointment. So, too, for Malcolm Patrick, who had seen the two favourites, Dobie, and Hill climb another place.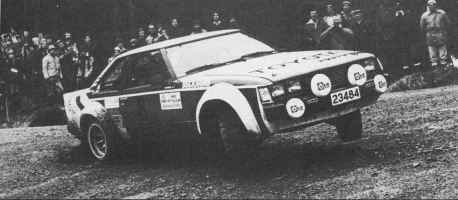 While the points leader in the overall series retired on the fourth test, the points leaders in G1 retired on the next stage, Dovey Main. Andy Miers was the third car to go off the road, but unfortunately his was the worst accident. His Escort rolled down a bank and out of the event and the championship. A previous mistake came from Phil Collins, running with Yokohama tyres which he was quite pleased with. Under the directions of John Taylor the spectators sent him on his way, but there was nothing anyone could do for Miers.
Also on this stage, Terry Kaby clipped a pile of logs with the front of the Toyota, putting the track well out, returning to the service area with half of the offending tyre scrubbed away to the canvas. Another to collect the logs was Willie Rutherford, although he hit them rather harder and the ex-Brise Churchill rent-a-car stayed where it was.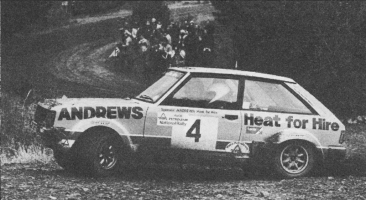 "It was very silly," said Rutherford later in the evening, "because I had not had a single moment all day, another two miles per hour slower and we probably would not have bounced across the track." There was even worse news for another man from the north east, Kevin Stones. Driving with more aggression than has been seen for some time, the Sunbeam approached a fifth gear brow, but went off, completely rooting the shell. Everything was wrecked, even the co-driver's seat. Happily Neil Wilson, the occupant at the time was uninjured, but it was a sad end to what was effectivley a works drive for the National series.
With the dramas of the early stages on this middle loop, many treated the final Dovey stage with respect, eager to return to the main service area to establish positions, and undertake repairs. Toivonen was first into service to have the axle changed, while Brookes's similar car needed only fresh rubber, including the spare, as he had collected a puncture near the end of the last stage.
Positions after six stages 1, Toivonen, 75m 35s; 2, Brookes, 76m 04s; 3, McRae, 76m 35s; 4, Patrick, 77m 51s; 5, Clark, 77m 56s; 6, Wilson, 78m 06s; 7, Evans, 78m 44s; 8, Kaby, 78m 52s; 9, Clew Hughes, 79m 33s; 10, Eyre-Maunsell, 79m 41s.
Obviously disappointed that he had handed the lead back to the works driver, Brookes was nonetheless still cheerful. He had again demonstrated that he is quite capable of leading an events be it national or international.
More hectic activity centred around the Toyota camp where the steering problems were being sorted, and around the other Pirelli runner, where sixth placed Wilson was having his car's, gearbox changed. The Mazda camp' seemed pleased with progress, — Millen was being pretty careful in the forests —' undertaking further minor modifications to the car. In particular, Millen needed a. bit more steering lock, to cope with some of the angles the car was adopting in the stages.
The Opel mechanics changed tyres.
Their drivers were busy, however, with McRae (now third) discussing the progress on the TRX covers compared to the standard Noras used so far this year and Patrick (now fourth, only 20secs behind McRae), still eager to try and snatch the series. He wanted to know about the fortunes of the opposition, and wasted no time in winding up Roger Jones, his co-driver from 1980, and currently alongside Bill Dobie.
Jones knew the score, however, and with tabs still on Hill, he was fairly content. Except that there were such spirited performances from Hughes, Worswick, and the Evans brothers, that no championship contender could be exactly sure of the positions. There could be no easing off.
The reverse trip through Hafren might still hold surprises.
It did, but none affected the positions of Hill and Dobie. The Evans's Greenhouse Chevette stopped to change a puncture, while Roger Clark's Escort hit manifold trouble in mid-stage. The car completed the event sounding very sick, and hit further trouble on the final run through Ystwyth. A punctured tyre wrapped itself round the rear brake caliper damaging the unit and giving just a few exciting moments for the driver and co-driver. Clark's performance encouraged all in the MCD team, however, and murmurs of "Wait until the RAC" were circulating later in the night.
There was a surprise for Terry Kaby as well, because the repairs to the steering were incomplete and the Toyota was not quite right. Nearing the end of the stage, he suddenly found himself with his mirrors full of Patrick's Opel. The fastest man in the 1981 series was virtually pushing the 1980 champion out of Hafren. Both men had extremely encouraging outings, with Kaby producing a professional drive to settle with the team for the RAC, and Patrick again proving his abilities.
"We only had a couple of moments," he commented later admitting to a broken thumb, which should have been in plaster, "and the worst was when I hit a rock; it jarred the steering so hard that I had to let go the wheel with the pain, and round we went."
He set times that earned him a place among the international stars, but nothing could retrieve the championship. Hill and Dobie left the last Hafren virtually together, on the road . . . and on penalties. That suited Dobie down to the ground; he only needed to finish one place behind Hill to win, but Hill had to do something special.
He could not. Despite a minor clutch problem, Dobie stayed in touch to finish easily clear of Francis Tuthill, the nearest championship opponent happily returned to completing events, and only 11secs behind Hill.
Up front, Toivonen and McRae continued setting the best times with Brookes in contention. For the professionals there was little to report, as the object of the day had been to prepare themselves for next month. In so doing, they gave the many spectators on the rally an excellent day's sport, and a warning of exactly what is to come.
The order at the finish was Toivonen, Brookes, McRae with about 30secs between them. On the return journey to the finish in Aberystwyth McRae and partner Ian Grindrod opted to withdraw from the results due to some dubious tyre changing during the day outside the all specified area. Rather than create bad feeling they missed the control.
The Opel name still took third place however with Patrick the driver chased home by the Escorts of Malcolm Wilson and Roger Clark. Terry Kaby was a pleased man at the finish, enjoying the left-hand-drive position on his first British forest event since the RAC last year. Robin Eyre-Maunsell completed a trouble-free run to ninth ahead of Clew Hughes, Rod Millen and Derek Evans, the man promoted to the top ten by McRae's withdrawal.
When the paperwork was cleared, Dobie emerged as the new Castrol/ AUTOSPORT champion, by just one point over Hill while, in Gl, Terry Pankhurst came through to take the honours. Steve Arnold took the Talbot Sunbeam ti Challenge, and in keeping with both the other major sections of the series, he took it by that one point.
Pace Petroleum National Rally,
Oct 17
Castrol/ AUTOSPORT National Rally Championship,
round 8
1, Henri Toivonen/Fred Gallagher (Talbot Sunbeam Lotus), 109m 53s;
2, Russell Brookes/Tony Goulding (Talbot Sunbeam Lotus), 110m 28s;
3, Malcolm Patrick/Brian Rainbow (Opel Ascona 400), 112m 52s;
4, Malcolm Wilson/Terry Harryman (Ford Escort RS), 112m 57s;
5, Roger Clark/Chris Searle (Ford Escort RS), 114m 03s;
6, Terry Kaby/Rob Arthur (Toyota Celica), 115m 09s;
7, Robin Eyre-Maunsell/Paul White (Talbot Sunbeam Lotus), 116m 11 s; 8, Clew Hughes/Roy Wilcox (Ford I Escort RS), 116m 20s;9, Rod Millen/Bryan Harris (Mazda RX7), 117m 06s;10, Derek Evans/Terry Evans. ] (Vauxhall Chevette HS), 117m 49s.
Rally leaders: SS1, Toivonen; SS2 Brookes; SS3 to SS8 Toivonen.
Starters/Finishers: 102/63.
Up to 1300cc: 1, Harry Hockly/Graham Evans (Mini 1275GT), 130m 42s; 2, Chris Stoddart/Jim Goodman j (Ford Escort), 131m 12s; 3, Pat Messer/Peter Messer (Talbot Sunbeam), 137m 59s
1301 cc to 1600cc: 1, Geoff Kitney/Alan McCann (Talbot Avenger), 121 m 40s; 2, Steve King/Dave Taylor j (Talbot Sunbeam), 123m 17s; 3, Mike Standen/Keith Tocknell (Ford Escort), 125m 32s.
Over 1600cc: 1, Terry Kaby/Rob Arthur (Toyota Celica), 115m 09s; 2, Robin Eyre-Maunsell/Paul White ' (Talbot Sunbeam Lotus), 116m 11s; 3, Clew Hughes/Roy Wilcox (Ford Escort RS), 116m 20s.
Group 1:1, Ian Wilson/Paul Mason (Talbot Avenger), 119m 32s; 2, Terry Pan khurst/Roger Freeman (Ford j Escort RS 2000), 119m 33s; 3, Ian Hughes/Hugh McNeil (Talbot Avenger), 123m 40s.
Talbot Sunbeam ti Challenge: 1, Steve King/Dave Taylor, 123m 17s; 2, Mike Rackham/Robert Young, j 126m 26s; 3, Steve Arnold/Dave Cousins, 127m 20s.
Leading retirements: Jim McRae, (Opel Ascona 400), OTL, 8 stages completed; Willie Rutherford (Ford Escort RS), accident, 3 stages completed; Jeff Churchill (Ford Escort RS), axle failure, 4 stages; Malcolm Stewart (Ford Escort RS), accident.
Best Special Stage Times
SS1 Pace 1, Ystwyth (5m 00s): Toivonen, 6m 02s; Brookes, 6m 07s; Griffiths, 6m 07s; Wilson, 6m 12s; J McRae, 6m 13s; Clark, 6m 19s.
SS2 Yokohama 1, Hafren (23m 00s): Brookes, 27m 39s; Toivonen, 28m00s; McRae, 28m 19s;Wilson, 28m 29s; Patrick, 28m 39s; Rutherford, 28m 51s.
SS3 Taliesin (3m 30s): Toivonen, 6m 17s; McRae, 6m 23s; Patrick, 6m 30s; Kaby, 6m 38s; Eyre-Maunsell, 6m 42s; Grainger, 6m 42s.
SS4 Foster and Skeffington, Pantperthog (8m 30s): Brookes, 9m 45s; Toivonen, 9m 55s; McRae, 10m 00s; Clark, 10m 07s; Kaby, 10m 09s; Patrick, 10m 10s.
SS5 Andrews Dovey (13m 00s): Brookes, 13m 42s; Toivonen, 13m 47s; McRae, 13m 59s; 14m 00s; Patrick, 14m 16s.
SS6DaveyGartheiniog(10m00s);Toivonen, 11 m34s;McRae, 11 m41 s;Clark, 11 m49s;Patrick, 11 m54s; Brookes, 11m 54s; Wilson, 11m 56s.
SS7Yokohama 2 Hafren (23m 00s): McRae, 28m 07s; Brookes, 28m 14s;Toivonen, 28m 15s;Wilson, 28m 38s; Patarick, 28m 50s; Clark, 29m 10s.
SS8 Pace 2 Ystwyth (5m 00s): Toivonen, 6m 03s; McRae, 6m 07s; Brookes, 6m 10s; Patrick, 6m 11s; Wilson, 6m 13s; Eyre-Maunsell; 6m 25s.