Report from Autosport of 18th October 1979
Winners take all
Vatanen wins convincingly - Wilson's second place gives him maximum Castrol/Autosport points - Title contenders both finish, McRae third, Stokes sixth -
Report: Ann Bradshaw - Photography: Tony North
It was winners' day in Wales on Saturday. Although only one person can come first on a rally, the Castrol '79 did have three winners. The man who stands out as the star of the day was Ari Vatanen, who won this classic national rally by 3½mins with a copybook drive. His Eaton Yale Escort scorched to victory, the only other car able to match his speed being that of his Ford team-mate, Hannu Mikkola, who was the victim of a puncture. Ari has a most impressive list of victories in British rallying, but this was his first Castrol win, and he was very happy with it. To watch him and Hannu on stages was magnificent, and it was a shame that some of the other competitors on the event were not able to do some spectating. They would surely have witnessed some first class driving which, if copied, could help them considerably. It is only fair to say, however, that the Castrol/AUTOSPORT competitors had come out of their previous doldrums and put up some quite magnificent performances on Saturday that, in many cases, were sadly not rewarded by high placings.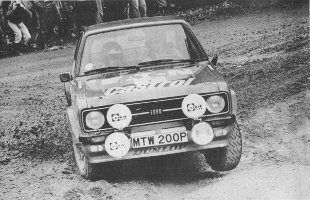 The second winner of the day was Malcolm Wilson. He brought his Total Oil Escort home second overall and achieved exactly what he hoped for - to win the Castrol/AUTOSPORT Championship round. A couple of rallies ago, it looked most unlikely that Malcolm would be able to manage a serious late season challenge to regain his championship crown. Things change, however, and, with two wins in a row he has now kept his chances very much alive. The series contenders for top honors, Malcolm, Jimmy McRae and David Stokes, now go to the last round with everything to win or lose. Only nine points separate the three men, with David on 82, Jimmy on 81, and Malcolm on 73. The permutations of what can happen are too complex to go into here, but suffice it to say that the last round, the Bovis National, will be a nail-biting cliffhanger.

There is, however, one man who won't have to wait until early November to see if he is going to be a winner. Ivor Clark won the Group 1 class on Saturday in his Mopar/Castrol Avenger and, with it, the Group 1 championship title. He justly deserves this as, along with co-driver Ken Wilson, he has had a hard time this year from the likes of Julian Raymond, Mike Stuart and John Cleary in their Escort RS2000s. Despite what most people think, Ivor is not a seasoned campaigner as he has only been driving for about three years, and so has no advantage of experience over some of his younger adversaries. Once again the rally proved first class for spectators and for competitors and the Wolverhampton & South Staffs CC gave competitors that very rare chance of tackling a stage of over 20 miles on a one day national.
The Wolverhampton & South Staffs CC have quite a reputation in rallying circles for staging rallies that really test teams. They scoff at the national events that have short `mickey mouse' stages to make up the mileage and those that let the competitors flee into service after each stage. No doubt the strongest exponent of this attitude in the club has been David Stephenson and now he, as Vick Sallows of Castrol said, 'elevated himself and become God', new Clerk of the Course, Norman Jones, has carried on where David left off. His route took in nearly 100 stage miles and there were just two service halts. The penalty for being caught servicing out of the one designated area was immediate exclusion and, with their usual iron hand, the no-nonsense organisers enforced this rule.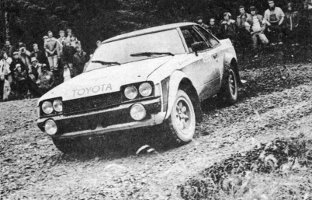 The stages themselves were the usual very good mid-Wales ones including Dyfi and Hafren. The format of the event was an 8am Aberystwyth start, unfortunately in pouring rain, 28 miles of stages, service and lunch, 30 miles of stages, service and then the last 32 miles of stages - a nice compact route with just nine stages. Obviously the competitors who punctured on something like the 22-mile Hafren would have liked some shorter stages but you cannot please everyone. However much competitors may have suffered by not being able to get to their service crews after each stay, everyone must readily agree that the one set service area is the ideal way to cause the least possible disturbance to local inhabitants.

There are many points on which the organisers can be praised and there is no doubt that the event was excellent and it is therefore difficult to pick out any particular points. But mention must be made of their awareness of the overall image of the rally, while many organisers try so hard to put on a competitors' rally that they miss out the niceties. One such thing was the finish, for the first time, not in the Municipal Car Park, but on the Aberystwyth promenade outside the Belle Vue Royal. The format was that the rally proper finished at the end of stage nine, but the top 10 were then taken in formation back for a ceremony in the town with Richard Davies on the end of a microphone. This was very popular but it is hoped that even this can be bettered next year. The club may be able to get the ceremony on the promenade itself (obviously this would mean all the rally traffic would be clear of the public road) and not on the road being used by afternoon shoppers.
It is rare that competitors and organisers can agree on every aspect of a rally and the one obvious place where the two factions were having their differences was over the firebreak warning in Dyfi Main. This place had caught several people out on the same event last year, had been the scene of a visit by Malcolm Wilson on the Welsh and was again fairly popular on Saturday. Many top competitors felt that it should have been cautioned in some way, either in the road book or on the stage. Norman Jones felt differently, saying that they would not arrow it as they did this last year and they disappeared and that they felt that tape across the fire-break was adequate this year. Unfortunately the tape went. He also felt that over-use of caution boards can lead to much more dangerous situations, competitors tending not to take them seriously if they had come across some before that they considered misplaced. It is a point that could be argued for ever and Norman very sensibly said that, next year, the firebreak would be marked in the road book and the competitors would have to get along with that.
ENTRY
There were quite a few guests out on the Castrol '79 joining in with the regular Castrol/AUTOSPORT circus. They were very distinguished guests, indeed, and they turned a national event's entry list into one that any international rally would be proud of.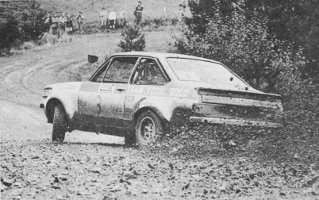 In entry order, the guests were Hannu Mikkola and Ari Vatanen in David Sutton Cars-prepared Eaton Yale Escorts, Timo Salonen in a Team Datsun Europe Violet with his boss Andy Dawson (a registered contender in the series) keeping him company in a similar machine, Henri Toivonen in a Total Oil Escort and Jean-Luc Therier and Leif Asterhaag in Team Toyota Europe Celicas. For these people it was going to be some useful pre-Lombard RAC Rally testing and they all came equipped with different types of tyres, etc.
The Escorts were all the usual carburettored machines, with Dawson's Datsuns the usual single-cam engined Group 2 cars. But the Toyota's were a different story. This was the rally debut of the car in its G4 version. The bodyshells themselves were old ones, but they both contained the freshly homologated 16-valve twin-cam engines that Ove Andersson has been working so long to get in his cars.
RALLY
It didn't take a crystal ball to tell anyone that Vatanen and Mikkola were going to be the men to beat. So as the first cars left the Municipal Car Park in a typical Welsh cloudburst early on Saturday morning, a day of fun was promised on the wet, slippery stages.
Ystwyth was first on the agenda and some of the guests were soon in trouble - Toivonen, Asterhaag and Therier. Toivonen's Escort had not sounded too' healthy in part ferme and the reason was soon discovered on stage 1 when it stopped with headgasket failure. The car was quickly taken to the service area where the Peter Clarke Autos mechanics prepared it in time for him to carry on in the afternoon and do some useful testing. For the Toyotas it was a problem that was to recur during the day and spoil their testing programme. To comply with RAC regulations, the cars had to be fitted with manual handbrakes, but unfortunately the special parts for this fitment had not arrived in the team's German base in time. An alternative system had been rigged up, but unfortunately proved less than successful. Both drivers started to suffer from stage 1 and had to struggle to the first service with no brakes. This was obviously a blow for them as engine testing was not possible under these circumstances. Although Henry Liddon assured us that this problem would not happen on the RAC Rally, that was of no help to Asterhaag and Therier. It seemed that a union on the rear brake had worked loose and try as the mechanics might to find a remedy, nothing seemed 100 per cent successful.
But, as this pair had to be content with pottering through the early stages, they were not alone with problems. On stage 1, John Cleary's G1 Escort was only firing on three cylinders, while local Aberystwyth man, David Grainger, hit a tree stump with his Tildesleys of Shifnal Escort and pushed the front offside wheel back, leaving him to struggle from the stage.
Tyres were obviously going to play a major part in the event, with the right choice for these long slippery stages vital, but not easy to decide on. Mikkola was in command after the first two stages with Vatanen breathing down his neck, and Wilson doing all in his power to keep on terms with them. But things were due to change a bit after the first attempt at the long Hafren stage. Vatanen changed tyres at the end of stage 2, but Mikkola didn't - to his cost - and he lost his lead (and 11 secs) to his fellow Finn. While they were having their own private battle, the first of an incredible spate of punctures began. The unhappy recipients here were Wilson, Salonen, Cleary and Robin Farrington. Wilson finished the stage with the back end of his car swaying drunkenly - his puncture had started six miles before and he had lost lm 29s to Vatanen. Salonen had been in an even worse state with a puncture for 11 miles and he finished in convoy with Dawson. But Farrington's Escort had collected its puncture three miles in and so a stop to change the wheel was necessary.
Steve Ward had been given a weekend off from struggling with the TDE Datsun Sunny, and Dawson had put him out in a third Violet. Ward was determined to do well in this car, but knocking the isolator switch off with his knee in Hafren was not what he had in mind. Retirements were few and far between, but problems were legion. Another man in the wars was Rutherford, when his Mazda shed its fan belt halfway through Hafren and he was out of the car for about a couple of minutes fixing it. After his second overall, in Cumbria he was looking for another good result, but he was having to carry on in an unhappy 18th position. Luckily not everyone was in trouble and there were some happy faces at the first service halt. Cumbria had not been good for the Triumph TR7 V8s of Graham Elsmore and Terry Kaby but things were different here, the pair lying third and fourth overall respectively. Elsmore was absolutely thrilled with his brand new 15ins A2s. This was the first time they had ever been used by any TR7 driver on a rally and they were 'magic'. Hill was also happy with the handling of his Chevette, as he had found the reason for its recent tendency to swap ends without so much as a `by-your-leave'. He had been using springs that had been much too hard. With the right replacements from DTV, he was as happy as a sandboy and going much better.
Stokes was determined to get a good finish and, having recovered from the shock of finding the wheel nuts loose on his car in parc ferme that morning, was keeping clear of trouble and especially punctures. However, poor Jimmy McRae was not that happy, feeling the disadvantage of a single-cam engine on the speed stages. Knowing how important a finish was he was determined to stay on but was far from impressed with his fifth placing.
At this point, G1 was being led by Julian Raymond, who was 14secs in front of Ivor Clark with Mike Stuart a further 15secs down. So, with the first service halt and lunch over, Mikkola went off a mere 5secs ahead of Vatanen, but with his cushion over the two TR7s being 1min 22secs.
Punctures, punctures and yet more punctures were going to be the order of the day. Stage 4 was over Pantperthog and here Kaby lost ½min on a flat, Hill struggled on for four miles on his and Raymond saw his G1 lead disappear after losing over ½min. For these three men it was the start of a catalogue of disasters that are a story in themselves. Hill had been doing the stage with 180s on the front and 195s on the back. After the puncture, he changed to 195s all round for stage 5 (Dyfi Gartheiniog). Here he suffered even more with both a front and a rear puncture on the offside. Luckily he was able to borrow a wheel off Willie Rutherford for stage 6, but here (he now had three 195s and one 180) he was only destined to go sailing off down a firebreak that caused quite a bit of controversy and claimed quite a few cars. Kaby's story was very similar, indeed: a puncture on stage 4, four miles from the end, a puncture seven miles from the end of stage 5 which he stopped to change and then a trip up the firebreak. The very honest co-driver Brian Rainbow blamed himself for the firebreak incident saying, "I took the lad down Malcolm's firebreak". But, just to add insult to injury, they got another puncture two miles from the end of that stage and had to end up following Hill's example and borrowing a wheel. If those two tales of woe weren't enough, there was more to come as Raymond also suffered like Hill with two punctures in stage 5 and he had to borrow wheels from Cleary and Stuart to complete stage 6, which he did with M&S on the rear and A2s on the front. And he also went sailing up the firebreak, where he bent the steering and had to crawl out to the finish. There are yet more tales of despondency from these stages, as Stuart also punctured on 5 and with the time lost, slipped down to third in G1 behind Clark and Cleary.
This trio of stages was causing havoc all round, as Wilson lost about 20secs on stage 5 on a deceptive hairpin right after an uphill section. He mistook the clearing straight ahead for the road and nearly crashed into a parked car. Luckily he scrabbled round and on. It seems incredible to think that there are still more stories associated with these stages, but Jackson also visited the firebreak and Rutherford slid off on stage 6 and sat helplessly on the side of the road with an undamaged car that refused to budge. He took a maximum and eventually finished 30th overall.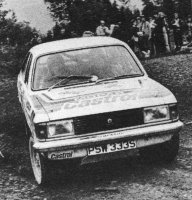 One of the main causes of all these punctures seems to have been some very sharp flinty stones that lay over the surface of about 1 miles of Dyfi Gartheiniog. This had been thrown up when the stage was re-graded recently and it caught people out from each end of the rallying scale. The most auspicious character to suffer was Mikkola, who was forced to stop to change the puncture, but found that his jack would not work. There was nothing left to do but drive on until he found some spectators and enlist their help to lift the car. This was all done but he lost his second overall and found himself way down out of the top 10.
There were some weary co-drivers, fed up with wielding jacks, who arrived back at the service area after stage 6. They were very glad that it was over, and were determined to keep their drivers on the straight and puncture-free courses for the next few stages.
Toyota were still having braking problems. Asterhaag had spun on stage 4 with just rear brakes working, found the front brakes again on the next stage and then, on stage 6, lost all the foot brakes and had only a handbrake. Therier just seemed to have no brakes at all but, in his usual French way, was not fussing too much about it. This man is incredibly philosophical about most things and is a joy to watch with his carefree attitude.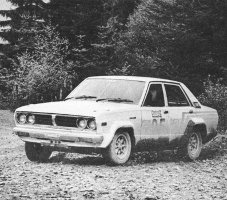 In the camp of their Japanese rivals, Datsun, things were not looking too bad, with Salonen's major complaint that he would like a twin-cam engine. Dawson had had his own problems while trying out some new Lockheed brakes: Salonen had had brake problems in San Remo and Dawson was trying bigger brakes to see if they solved the problem. The decision was that they did not as he had experienced some hairy moments with no brakes. Dawson was working hard with his testing saying that he was looking for things to homologate in time for the Monte Carlo Rally. Ward was acquitting himself well in his Violet and pleasing Dawson, who has great faith in his ability.
A few people were recovering after slow starts and, among them, was Jeff Churchill in his Atcost 80 Industrial Space to Let Escort. The Bridgend crew had admitted to feeling very secondhand at the start of the day, but had been revived by the fresh air and cold rain and were about to move into the top 10. Jackson had still not recovered from his firebreak visit, but McRae was doing all he could with the power available and had got himself up into third.

So with three more stages, including 22 miles in Hafren, to go the order was Vatanen, 71m 02s; Wilson, 73m 35s; McRae, 74m 12s; Elsmore, 74m 26s; Stokes, 75m 20s; Salonen, 75m 43s; Dawson, 75m 51s; Mikkola, 78m 10s; Pat Ryan, 78m 18s; Ward, 78m 42s.
As if his braking problems were not enough, Asterhaag suffered even more in Hafren with a broken throttle spring and then a broken starter motor. The unlucky Swede had to spend 13½miles in Hafren driving on the key but nevertheless managed to get into the top 10 here. Elsmore was still driving very well indeed, but admitted that his time on the second Hafren - he was 26secs slower than Wilson - could have been better had he used M&S tyres instead of A2s. The very sad thing was that this fine drive was to prove to no avail as, on the very last stage, Elsmore was forced to park his car on the side of the road exactly halfway through the stage with a broken diff. He was, however, the only leading retirement on these last few stages but not the only person to have dramas.
Both the Dawson and Salonen Datsuns spun on exactly the same bend in Tarenig (stage 8), while Ward only just made it to the finish following a coming together with a log on the last corner of the last stage. The log dislodged the axle and broke a halfshaft, which meant a fraught drive back to Aberystwyth with drive to only one wheel. He was very upset about damaging the car but Dawson was happy with result and even happier when Ward was given the Caprice Restaurant Man of the Rally Award for his very good drive.
Poor Hill had not seen the end of his punctures as he had yet another on the very last stage and even had a tyre deflating as the car was driven on the trailer. His relatively lowly 14th overall was not achieved without a lot of hard work and determination. Kaby was another who had suffered badly but still managed to finish in the Castrol/AUTOSPORT points at 11th overall.
Vatanen was the worthy winner to accept the behind him who had worked hard to be where they were. Group 1 was the province of Clark, who also clinched the championship, with Cleary having made a good recovery from early problems to struggle back to second.
When all the action was over a quiet settled over the seaside town, with most people heading towards the bar of the Belle Vue Royale Hotel where it was certain that the celebrations, with some of them not even sure they should be celebrating, going on to the early hours of Sunday morning.