From Express and Star of 3nd May 1967
RALLY OF THE WELSH FORESTS
THIS year's "Express and Star" national car rally breaks new ground being in daylight with competitive driving taking place over about 125 miles of Forestry Commission roads where speed limits do not apply.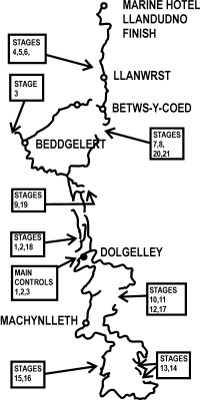 Organised for the tenth year by Wolverhampton and South Staffs. Car Club, the rally is sponsored by the Goodyear Tyre and Rubber Co. (G.B.), Ltd., Wolverhampton, this year as well as by this newspaper.
It starts at Dolgelly at 7 a.m. on Saturday and finishes some 12 hours and 300 miles later at Llandudno.
The switch to a daylight event, approved by the R.A.C., makes this one-day British national rally a pioneer in its class as well as improving conditions for competitors and spectators. On public roads linking the 14 forestry stages, competitors will be so scheduled as not to be in a hurry.
The organisers have received near full (180) entry list including a driver-navigator team which comprises Pat Moss who has just won the ladies award in the Tulip rally, with David Stone, who partnered the Tulip winner Vic Elford.
We also have last year's winner, Malcolm Gibbs, past winner Bill Bengry and such Midland stars as John Bloxham and Richard Hill.
The outline map alongside is for the benefit of spectators who be welcomed, along the route provided they remember that only competitors' cars are allowed on the forest stages and that whenever they park they do so sensibly and not block public roads in the process. Where there are breaks in the route on the map the competitors take to the forestry stages.
Where to watch
Only certain forestry stages are convenient for spectators. Those which are, and times when the first car is due, are:
Special stage 1-0716 hours. 3–0810. 6 – 0915. 8-0941. 9-1030. 11-1203. 13-1300. 14-1310. 16-1420. 17-1503. 18-1625. 19-1646. 20-1732. 24-1818.
Competitors will also be passing through the main control at Dolgelly from 1130 and 1610.