From the Motoring News of 19th March 1964
Motoring News Championship - Round 7
McBride and Barrow clear winners of "Express and Star"
THE entry list for the Wolverhampton and South Staffs Car Club's National "Express and Star" rally held over the weekend closely resembled a "Who's Who" of British rallying. All the top crews of the country converged on Wolverhampton on Saturday evening, and after a night's tough sport Reg McBride and Don Barrow showed everyone that they rightly deserve the title of British champions by bringing their winning Ford Anglia 1200 into the finish only eight minutes late.
As always, organisation was superb and on the Wednesday preceding the rally each competitor received a list of entrants, final instructions, Motoring News numbers and a road book giving the time schedule of the rally.
It is not uncommon nowadays for only one car, or a handful at the most, to avoid a fail on a championship rally. However, on the Express all the first 15, as well as several more crews, managed to get round with fairly low penalties. Nevertheless, the rally was most enjoyable and the organisers certainly kept their promise with an almost cleanable route and straightforward navigation. All the gates were open, as promised, and any farmers that were encountered appeared to be friendly (also promised).
In the regulations, competitors were informed that there might be "very few colonial sections." True enough, there were only a very few of these sections but "colonial " was certainly the right description. Without these, things might have been very different for such sections brought the retirement of more than one fancied crew and these were the only real "slowers" of the rally. Reg McBride dropped each of his eight minutes on the few muddy sections scattered through­out the rally.
By early Saturday evening the 150 starters were beginning to assemble at the Staffordshire Motor Tyre Company's premises in the centre of Wolverhampton. Shortly after scrutineering had been carried out navigators were collecting their road books of map references - most of which could be plotted in the 35 minutes before the "off."
There were only one or two non-starters, including Alan and Sheila Taylor, whose M.G.B. wasn't quite ready for such expeditions, while their Austin Cooper is now the property of David Friswell. Another non­starter was the Humber Sceptre of Bob Lamb/Tony Mason, which only four miles from the start shed a large section of the engine block into the atmosphere, so ending the lads rally before it had even begun. Tony Mason managed, to thumb a lift on the rally with Frank Davies/Bob Redhead from the Lake District whilst Bob phoned up his local petrol station for a tow back north.
At 9.31 p.m. the first car, the Vauxhall Viva of 1963 winners Tony Fisher/Brian Melia, set off on the 53-minute run-out to the first, control at Atcham near Shrewsbury. One by one the cars followed and the 1964 Express and Star was under way. One of the first retirements was that of John La Trobe and Julian Chitty's VW 1500S.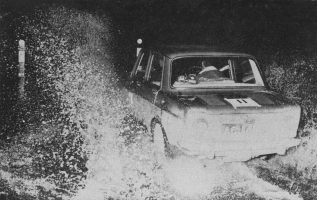 Only a few minutes out of Wolverhampton they lost all the electrics on the VW.
Everyone reached Atcham with time in hand and there was much spot-light adjusting before a 10 minuter to 477068 at Little Lyth. This was easily on, which is more than can be said of the following couple of sections. In a nasty kind of mist cars tackled the abominably rutted and muddy three-minuter to Spring Coppice. On the slippery white road down to the control there was one tree which appeared to have a magnetic attraction for Cortinas, The David Seigle-Morris/David Stone Cortina clobbered it and retired on the spot. Then one minute later Phil Simister/Graham Robson gave a repeat performance in the GT, and though they continued for a few more sections the car was badly out of track and they too retired, their recent run of successes over. The Cortina GT of Frank Grange/ John Brown shortly appeared and delivered the same tree a glancing blow but carried on whilst Roy Fidler/John Hopwood arrived in the Triumph Spitfire and broke the Ford monopoly by giving the unfortunate timber yet another clout! Although toeing-out very badly, Roy pressed on and the Spitfire was later seen to be going very well. A one-minuter followed before longer sections through Stapleton dogwn to TC 7 at 425018½.
The following 'two' through Underhill Hall was very muddy and as much of the road went up hill it was not on, as there was little traction to be had. Reg McBride/Don Barrow dropped their first one here, in companyg with David Friswell/Richard Binns (Cooper), Geoff Allen/Mike Kempley (VX 4/90) and several more. The route then moved down to sheet 129 with sections over Wilderley Hill then down the white road to Stedment and on over to The Bog. Leo Bertorelli/Tony Straker (Cortina GT) dropped their first minute at TC:11 for which Tony was claiming a record at the end.
From The Bog the rally moved down to TC.14 349955 (S.W.) then round through Wood House down to the hairpin at 350935 and back up by the river to Fishpool. The slot back up to TC 14 was difficult to spot and several cars turned off at the second junction by mistake, naturally meeting the rally coming back towards them. Ted Cowell/Doug Lockycar were among the people to do this and Ted reversed his Herald at a fantastic speed for over half a mile back to the junction. Bob Stephens/David Andrews wrong­slotted their Cooper S along here and were stuck for some time.
A section round the Marsh and Corndon Hill was pleasant, and the track down towards Cowlton was extremely interesting and rather hairy into the bargin. Frank Davies put the Cooper S sideways on across this narrow track and many others followed his example. Stephen Clipston's VW 1500 appeared to be going very well along here.
The rally then moved south towards a control on the white track south of Mainstone on the edge of 128. This control saw the end of Alec Lobb/Peter Valentine's run; their Cortina had been suffering from gearbox trouble since the start and at this point Alec decided he dare not continue so he retired. Moving on to sheet 128, Tony Fisher/ Brian Melia, who were going very well, came upon a local Anglia van. It appeared to be going deliberately slowly and before long Reg McBride and Roy Fidler joined the slow procession.
The route then moved back to sheet 129 through Cefn Einion and back across the river to the control. In this arela there appeared
to be two alternative routes and Pete Astbury/David Hewitt and Mike Sutcliffe/Barrie Potts chose opposite routes, resulting in the Vitesse and the Morris 1100 coming into contact with each other at the cross­roads.
Contretemps
Shortly afterwards two more cars had a contretemps when the Cooper S of Barrie Williams/ Tommy Thompson (back in the red one this time!) and the S of Geoff Halliwell / Mike Wood shunted. Geoff lost his lights and his good run was over. Most of the "usual" sections in the Newcastle and Black Mountain areas were then tackled, and these were all on. The route then climbed over a misty Dun Forest to Gaeliber Uchaf then across to Llanberewrg and over the River Severn. In this area two Rapiers were in trouble; firstly Geoff Cook/Denis Bowes hesitated at a junction and the car became stuck in the mud for a time, then Andrew Cowan and Brian Coyle, found trouble with their oil pressure and nothing was seen of them again.
After sections through New Wells and Llaneithion, the cars then reached Tregynon where an extra 15 minutes was allowed for petrol. Just before this the Cortinas of Leo Bertorelli and Ron Clift/Brian Lockyear ran out of petrol at exactly the same spot, Geoff Allett had been going well in the VX though Mike Kempley didn't know the track down to Glanbeclhan, and they lost five minutes.
At the petrol halt it was learned that McBride was five late whilst Roger Clark had lost eight in the Cortina. Roy Fidler, David Friswell, Tony Fisher, Alan Allard and Claude Twigdon all appeared to be going well. Keith Watkinson/Alan Cooke on one of their rare visits to Wales were also doing, very nicely in the M.G.A Twin-Cam - at this point only seven down.
Bill Bengry/Barry Hughes were saying the Simca 1000 was missing slightly and Roy Fidler/John Hopwood were using tyres at a great rate in the out-of-track Spitfire, and changed a wheel at this stage. S.S.R. D 34(o) was being rigidly enforced on this rally, and the petrol halt was treated as a normal section. Although many people ignored this rule at petrol in order to avoid later fails, one or two people went out too early by mistake and incurred a fail as a result. One such crew was Tony Fisher/Brian Melia whilst Jimmy Bullough/ John Middleton. Tony Fall/David Fawcett, Barrie Williams/Tommy Thompson and many, many more did likewise.
Pat Spencer/Yvonne Hilton had been experiencing a slipping clutch and found no oil pressure at the petrol stop.
The second half of the rally used much of the regular stuff on lower 117 and went via Lower Cefn, over Stingwern Hill, through Manafon Ford and round Gibbet Hill back to New Mills. Although most people know this area backwards one or two people came to grief. Ron Wilson / Roger Pierce (Anglia) suffered a puncture near Manafon whilst Roger Clark/Jim Porter were reported to have "nearly spun" at New Mills. The section down to 074½004 was the undoing of Frank Grange. Although the white road across the river had been tarmaced and built-up within the last five weeks the local council had not yet got round to bridging the river, a point which Frank noticed when he and John Brown sailed into the drop and stuck for some time before retiring.
Back on 128 the rally wandered down over the hills. Doug Ray/Stuart Gray appear to go wrong whenever they see a telephone box (remember the Targa) and they went out of swing up by the box at 012962. Although going fairly well Doug Ray has decided that the car, hasn't enough "puff" and a 1500 GT Anglia will be seen on the Bernie.
The final sections round the Mochdre loop were just about on before the final four minuter through the Flannel Factory to 091893. Many people were just about clinging on to time here and the last section was just tight enough to put a number of people OTL by one minute. Charles Bent-Marshal/Roy Davies (Cooper S) were among those to do this.
On one of the last few sections before the final one, Tony Fall/ David Fawcett were excluded. A marshal read their watch wrong and it appeared they had done the section in too little time. Barrie Williams did the same and suffered a similar fate. In the same area the John Bloxham/ Robin Morris Healey 3000 went out with dynamo trouble whilst John Francis/Tony McMahon in their Cooper S stalled at a junction and could not persuade their engine into life again.
From the final control a 44 minute section followed down the Metropole, Llandrindod Wells (the "circus" must have bought shares in this place by now!). On this section David Pollard/Tony Baines lost the fan belt and radiator cap of the Hillman Imp. The sister car of Tiny Lewis/Robin Turvey had been going very well but at one stage the throttle spring broke and some sections turned out to be quite interesting as a result, it is believed.
Just before eight o'clock the, results were announced - though everyone knew their individual score within minutes of arriving. David Friswell and Roger Clark had both dropped only 13 minutes as Roger had dropped his first at TC3 David Friswell announced second on "farthest clean."
Although the Express & Star will not be remembered as a fantastic thrash it will once again go down in the books as a well organised National rally. The marshalling was very good, and at one early control dozens uniformed people descended the cars to clean them. Whatever can be said about the route certainly lived up to the promised and although some people might grumble because the roads were "old" it must be remember that there has been a Motoring News rally in the same area the previous three weekends.
Perhaps not the best Express ever, it was certainly a good straightforward and enjoyable rally. One thing is certain -every one will be back in 1965.
A.C.M.
RESULTS 1, R. McBride/D. Barrow (Anglia) 8 mins.; 2, D. Friswell/R. Binns (Cooper) 13; 3, R. Clark/J.Porter (Cortina GT) 13; 4. K. Watkinson Cooke (M.G.A.) l8; 5, C. Twigdon/L. Chilvers (Anglia) 18; 6, A. Allard/T. Yoward (Cortina GT) 18; 7, B.Williams/N. Neldes (Cooper S) 19, 8, F.Jackson/K. Joseph (Cortina GT) 19;9, T.Lewis/R. Turvey (Hillman Imp) 19; 10, D. Pollard/T. Barnes (Hillman Imp) 19; 11, R. Richards/G Davies (Cortina GT) 20; 12, R. Fidler/J. Hopwood (Spitfire) 21; 13, D. Ray/S. Gray (Allardette) 23; 14, D. Carmichael/J.Lomax (Spitfire) 23; 15, Barnes/T. Pettie (Peugeot)
Other Awards: Team: McBride/Friswell; Club: Newport Car Club Ladies; Miss Spencer/Miss Hilton; Mixed: Keen/ Miss Vaugan; W.S.S.C.C.: Friswell/Binns; B.T.R.D.A.;McBride.