Autosport March 20th -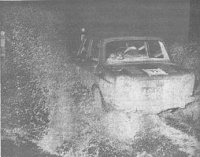 "EXPRESS AND STAR" NATIONAL RALLY
GRANDAD WINS AGAIN
By GRAHAM ROBSON
DURING the last few years, the Express and Star national rally has built up a status all of its own, having won the Ecurie Cod Fillet Rally of the Year award in 1962. It always seems to draw huge entries of 150 cars and more in these days when national attendances seem to be dropping steadily.
The 1964 rally attracted just such an entry in which one could pick out dozens of possible winners, and, as usual, the route and organization left little to be desired, though for once there was little new stuff to keep the circus navigators happy. However, the whole rally was short, sharp and concentrated, with every one of the 70-odd time controls manned keenly by marshals who were looking for any signs of watch fiddling and general gamesmanship.
As often happens with such a star-studded entry, many or the fancied crews dropped out , of the running early in the event, and an extremely rapid and accurate run resulted in a clear win (for the second week in succession) for Reg McBride/Don Barrow in their Anglia 1200, from David Friswell/ Richard Binns (in David's newly acquired 998 c.c. Mini-Cooper) and Roger Clark/Jim Porter, whose turn it was to lead the Cortina G.T. contingent.
As usual the start was from the very centre of Wolverhampton at 9.30 p.m. The huge field was efficiently marshalled into position, and road books were handed out 35 minutes in advance of the start. There were people in trouble even at this stage, with Bob Lamb/Tony Mason having to thumb a lift from the bottom of the M6 after their Humber Sceptre blew up in a very comprehensive way on the way to the start. Bob was reduced to the ranks of a spectator, but Tony Mason managed to scrounge a ride in Frank Davies's Mini- Cooper which moved up into the vacant starting spot left by the Humber. Seventy-two time controls had to be plotted, and the real rallying was concentrated into 4½ hours of motoring between the Shrewsbury area and the end of the night section south of Newtown.
A run-in of 53 minutes followed by an easy 10-minute section led to a control south of Lyth Hill (five miles from Shrewsbury), where the first tight and rough section was thrown at the competitors, and instantly caused chaos to several. On the next three-minute section, David Seigle- Morris left the "road" and savaged a large tree on the right side of a left-hander, to the immediate detriment of his works Cortina's steering and front suspension: he retired at the next control! Reg McBride missed the same tree by the sheerest good fortune, but Roy Fidler smote it a hearty blow with his Spitfire, bending his steering but leaving the car driveable (after a fashion) and he carried on. Next up was Phil Simister, who repeated the trick he retired on the spot. David Friswell took the Mini-Cooper past the tree sideways, then both Frank Grange (Cortina) and David Pollard (Rapier) took their -turn at the joust, so that after a quarter of an hour of real rallying at least three of the hot favourites were either out or crippled. The later numbers must have had a rut worn past the tree for them, as damage seems to have been confined to the earlier cars.
One bit of new stuff was found near Underhill Hall and, according to those crews who value their cars, it might well have stayed unfound.
Now the usual sections were covered in the Ratlinghope and the Long Mynd regions, though an unusual route around Linley Hill caused some trouble, and since the route looped back almost onto itself it was easy to find two-way traffic developing. Near Old Church Stoke a particularly slippy and rough crossing of Cornton Hill led to wholesale losses, and even David Friswell dropped three on a three-minute section!
Control 20 saw the downfall of the Bertorelli/Straker Cortina G.T. when they punctured and dropped nine minutes at once. Loops on and off Map 128 near Mainstone caused some navigation trouble, and where there were alternatives a few near misses were recorded; one incident reached the contact stage as Mike Sutcliffe's Morris 1100 met Peter Astbury's Vitesse at a cross roads. Shortly afterwards near Sarn, the Mini-Cooper Ss of Barry Williams and Geoff Halliwell met head-to-tail in a narrow lane, with damage to both cars.
At the front a fierce battle had been raging between the Viva of Tony Fisher/ Brian Melia, McBride's Anglia and Fidler's Spitfire, but just before the petrol halt at Tregynon the Spitfire wrong-slotted for five minutes and lost the overall lead.
The regulations had clearly stated that the three-quarter time ruling would apply on all sections, and so it was not possible to regain more than four minutes between the "in" and "out" controls at petrol without incurring a fail. Many crews had obviously not read their regs., and Fisher's Viva. Geoff Allen's VX4/90, James Bullough's Cortina G.T., and others all suffered alike.
Best performance at the petrol stop was Reg McBride on five minutes, with Keith Watkinson on seven in his old M.G.A Twin- Cam and Friswell on the same figure. John la Trobe was complaining of electrical trouble on his new Volkswagen 1500S. while Andrew Cowan was trying to mend a split oil pressure pipe. Roy Fidler changed a bent wheel on his car, Barry Williams tried to repair the savaged rear end of his Mini-Cooper S and several crews had time only to survey the damage of the night before dashing off to do the rest of the rally.
The second half of the rally saw fewer incidents, though the pace was just as fast and furious as before. Ron Wilson was having a good run in his Anglia 1200 with new navigator A. Pearce, but punctured near Manafon ford after seeing another competing Ford Anglia (that of Jim Gardner and Bob Train) go off the road in front of him. David Bache retired his Morris 1100 here when "the green light came on permanently", and shortly after Manafon, the Frank Grange/John Brown Cortina G.T. became stuck on a three-minute section trying to find a new way south of Llanwyddelan.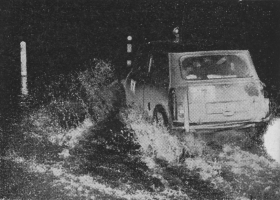 Watkinson/Cooke could have used a little local knowledge, as they wrong- slotted briefly near Bwlch-y-ffrid without losing a place, but the survivors pressed on round the Trefeglwys loops and the full Mochdre complexes - this last is decidedly overworked nowadays, being in need of a rallying rest. The last half hour was very exciting for Tiny Lewis as the throttle return spring broke on his Imp and caused the little car to develop full power on all occasions, while his Rootes team-mate, David Pollard, had trouble with his cooling system just before the end and later lost the dynamo on the way into Llandrindod Wells. Second place man, David Friswell, had lost all his brakes, and resorted to the more rudimentary arts of stopping (spinning it!) three times in this last 10 miles, while Doug Ray damaged the front of his Allardette on the very last hairpin of the event. To round off an eventful night the works Spitfire shed its silencer in the last ford (at Mochdre) and just escaped the necessity to retire, so that it was a generally thankful band of finishers who arrived at Llandrindod Wells from about 4 a.m.! Results were individually available almost at once, but the finishing order was delayed by a protest about the marking of the petrol halt controls, which was eventually thrown out on the grounds of its having been clearly mentioned in the regulations. Just to prove that he can give us all a lot of years, Reg McBride didn't wait for results but dashed off home to attend the christening of his grandchild!
Well done, Grandad, and well done the Express and Star same again next year, but please chop that tree down in time. . . .
RESULTS
1, R. McBride/D. Barrow (Ford Anglia 1200), 8 m.; 2, D. Friswell/R. Binns (Mini-Cooper), 13 m.; 3, R. A. Clark/J. Porter (Ford Cortina G.T.), 13 m.; 4, K. Watkinson/A. K. Cooke (M.G.A Twin Cam), 18 m.; 5, C. Twigdon/L. Chilvers (Ford Anglia 1500), 18 m.; 6, A. Allard/ T. Yoward (Ford Cortina G.T.), 18 m.; 7, B. Williams/N. Nelder (Mini-Cooper S), 19 m.: 8, E. Jackson/K. Joseph (Ford Cortina G.T.), 19 m.; 9, I. D. L. Lewis/R. Turvey (Hillman Imp), 19 m.; 10, D. Pollard/A. Baines (Sunbeam Rapier), 20 m. Team Prize: R. McBride and D. Friswell. Best Novice: J. Griffiths (Mini-Cooper S).