The following article is taken from the Ecurie Cod Fillet Newsletter of 2010 -
THE HISTORY OF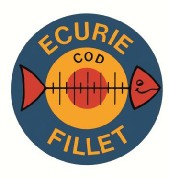 Ecurie Cod Fillet was created in 1955 by Roy Fidler and John Hopwood. They were stalwarts of the Stockport Motor Club and had both gained a reputation for winning rallies. By trade, Roy was a fish merchant and that quickly led to his earning the nickname "King Cod". He and John even won a Stockport daylight rally driving the company fish van, a VW Transporter, when his Triumph Herald rally car was not fit for use.
In a dig at all the Squadras and Ecuries of the day, the pair began to enter and compete under the title Ecurie Cod Fillet. The ECF badge depicting a filleted cod emanates from this period and was soon to be seen on the cars of many other top competitors. Typically John would be seen at the start of the events rushing around fellow competitors collecting team entry fees so that he could enter as many permutations as possible to ensure ECF would win the Team Prize. ECF was beginning to take the form of a club, but not one to which you could pay a subscription and join.
ECF was, and still is, an invitation-only club and it became quite an honour to be asked to become a member. Eligibility in those early days was attained by winning a Motoring News rally, a feat that was no easier then than it was to become in the late sixties and early seventies. There was always a queue of people with aspirations to join and, indeed there were many who claimed to be members who weren"t, such was the "glamour" surrounding the image of the ECF. The noted rally driver and TV presenter Raymond Baxter, himself a member, once summed this up by saying "we are members of the most elitist club of motor sporting personnel in existence". By the end of 1967, despite having been in existence for 12 years, it continued to be an exclusive club, there being still only some 200 members.
ECF was an informal club and in the early days meetings were typically low-key gatherings over breakfast or by the bar at the end of the Championship rallies. The club concept was promulgated by John Hopwood who produced a very witty and informative bulletin that was sent out every few months. Annual dinners followed where, for obvious reasons, battered cod with chips and mushy peas were typically served as the main course! It was at such get-togethers that the highlight of the evening was the presentation of the Cod Fillet Trophy to the best rally of the year as voted for by its members.
Rallies that won this prestigious award were:
1962 Express & Star Rally
1963 Shunpiker Rally
1964 Manx Trophy Rally
1965 Shunpiker Rally
1966 Bolton Rally
1967 Express & Star Rally
1968 Express & Star Rally
1969 Tour of Mull
1970 Tour of Mull
1971 Plains Rally
1972 Plains Rally
1973 Gremlin Rally
1974 Illuminations Rally
1980 RAC Rally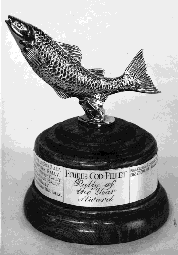 By 1980 most of the committee had stopped competing so it was then presented to a notable member who had greatly contributed to the world of rallying. Individuals receiving this, now usually presented at reunions, are as follows:
1989 Bill Bengry
1992 Don and Val Morley
1996 Anne Hall
1999 John Hopwood
2002 Stuart Turner
2005 Mike Wood
2009 Bob Bean
A list of ECF members has never been publicly made available but undoubtedly, if it was, it would comprise a veritable "who's who" of the "great and the good" from the old days of British rallying in the 1950s, 1960s, 1970s and beyond. As ECF became of age international stars were added to its august list, beginning in 1961 with Erik Carlsson who with John Brown had just won the RAC British International Rally. Soon many other top overseas competitors were invited including Jean-Jacques Thuner and John Gretener of the Triumph team after they won the Geneva Rally and the German ace Eugen Bohringer. Continuing the RAC rally winner theme, Timo Makinen, Rauno Aaltonen, Simo Lampinen, Björn Waldegård, Stig Blomqvist, Ari Vatanen, Pentti Airikkala and Hannu Mikkola all became part of this elitist group. There has always been a close link between Britain"s toughest rally, the RAC, and Ecurie Cod Fillet, an event in which Roy Fidler and John Hopwood regularly competed. Early winning drivers Ian Appleyard, John Wallwork, Jimmy Ray, Peter Harper and Gerry Burgess were all ECF members as was the late, great Roger Clark whose name was added to this list of home winners in 1972. More recently other national and international rally winners have been invited to become members including Mark Higgins, Nicky Grist, Phil Mills, Mikko Hirvonen, Jari-Matti Latvala, Petter Solberg and Steve Perez.
ECF"s fame spread further afield than Europe, Safari Rally legends Bert Shankland and Shekhar Mehta joining the throng along with multiple Australian and Asia-Pacific champion Ross Dunkerton and many times American champion John Buffum. Nearer home Stirling Moss, no less, showed interest in ECF whilst competing on the Pirelli Classic Marathon alongside Timo Makinen, Roger Clark, Paddy Hopkirk and others who were all members. Jokingly the ECF "committee" asked him for his credentials so his membership could be "considered" as he was a racing driver! Indignantly Stirling mentioned that he was one of only two people to win a coveted Coupe des Alpes and was placed second by 4 seconds to Sydney Allard on the Monte Carlo Rally when he was driving for the Sunbeam works team. He was, of course, made a member and Sir Stirling enjoys his membership and keeps in touch, actually including mentions in ECF bulletins in one of his famous scrap-books!
Perhaps ECF's most notable contribution to the sport of rallying was the idea to run a rally on the Isle of Man. In conjunction with the Tourist Board, John and Roy had visited to set up a splendid route around the island. Then, just before they were due to leave for the ferry, the Board casually asked them whether it would be of any help to close some of the public roads! The ECF duo jumped at this idea and one of the UK's finest rallies was born, a rally that eventually was to evolve into an International with closed stages run over much of the famed Isle of Man TT course. The first Manx was run in 1963 and Reg McBride and Don Barrow were declared the winners, this remarkable team going on to end up as MN champions that year, a feat they repeated in 1964.
ECF drivers or navigators have won the Motoring News Championship no less than 34 times and the RAC British Rally Championship an amazing 66 times over the years. As Classic Rallying became popular many ECF members became involved as competitors and marshals and the top crews in this now popular branch of the sport all became ECF members.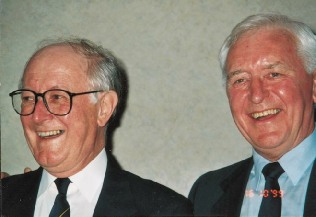 Founder members John Hopwood and Roy Fidler
John Hopwood sadly died in 2006 and is much missed by all members with whom he kept in close contact through phone calls and his famous ECF bulletin which is still produced three times a year, now written by Tony Mason, assisted by "King Cod" Roy Fidler, Mike Broad, Alan Jolley and John Clegg who comprise the "committee". The bulletin keeps members of all eras in touch and is avidly read at home and abroad.